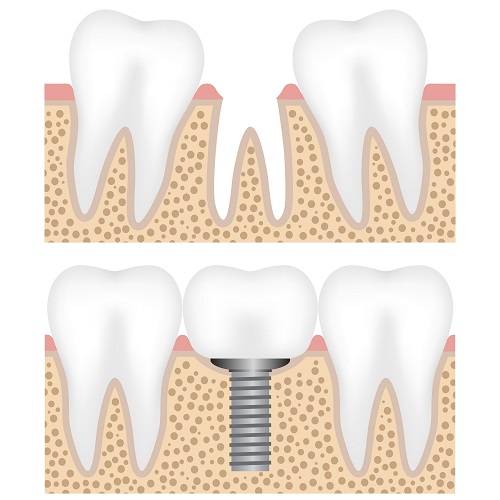 It's perfectly normal to feel self-conscious and concerned when you are missing one or more teeth. Are you considering a tooth replacement option? Implant dentistry is one of the most effective and durable ways to replace both the upper visible portion of tooth as well as the root.
Although implant dentistry tends to be a great option across the board, it's not right for everyone. A consultation with our experienced dentist in the Airdrie area is needed, to determine if you are a good candidate. Dr. Gordon Chee has been providing dental implants and other tooth replacements for many years, and he can help you decide what is going to work best for you.
In general, implant dentistry can be a great option for some people because of the following characteristics:
Durability. Dental implants are very strong. They quite successfully withstand forces that threaten to break, crack or chip them.
Longevity. Because dental implants are rooted into the bone beneath your teeth, they tend to last a very long time. For many patients, dental implants last decades – sometimes an entire lifetime.
Appearance. Dental implants look like your natural teeth. Not only do they mimic the luster and light-reflecting properties of real teeth, but the implants will also be matched to the color of your other teeth for a seamless result.
Facial shape preservation. When a tooth is missing, the bone in which it used to exist begins to shrink. This is simply what happens to the bone when there is no tooth root to sustain it. The result is often a shrunken or sunken shape to the lower third of the face, around the mouth. Because implant dentistry replaces the tooth root, it prevents the shrinkage of bone in that area.
These are just a few of the possible advantages of implant dentistry. Dr. Chee can help you decide if it will benefit you or if there is a better match for replacing your missing teeth.
To learn more about our implant dentistry services in Airdrie, please call Aesthetic Dental Studio at 403-543-4600.