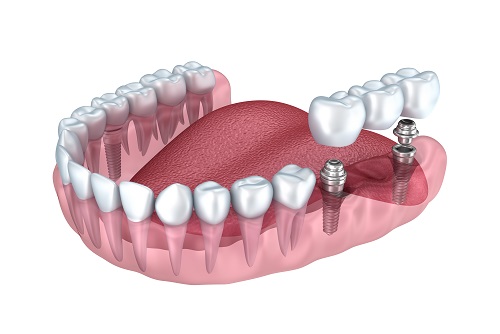 At the Airdrie-area practice of Dr. Gordon Chee, many patients with missing teeth are curious about dental implants. See five of the most common questions below, then schedule a consultation at our office to learn more!
1. How are dental implants different from other tooth replacements?
Replacement of the tooth root is one of the main ways dental implants differ from dentures and dental bridges. The titanium root is embedded in the bone that lies beneath the gums. Once the gums heal around the titanium root, a dental crown is placed on top to restore the visible portion of the missing tooth.
Because dental implants are integrated into bone in your jaw, they form a durable and stable foundation for chewing, eating, smiling and laughing.
2. Am I a good candidate for implant dentistry?
Dental implants aren't right for everyone, and Dr. Gordon Chee can determine which tooth replacements are options for you. Certain health factors and the density of the bone beneath your teeth are two factors that will be reviewed as part of determining your candidacy. Dr. Chee is personally committed to finding the options that work best for each of his patients.
3. How long will the process take?
The entire process can take several months. After the implant is placed in the bone, 3-4 months of integration between bone and implant are required. Once a stable bond is formed, the permanent restoration (a dental crown or attachable dental bridge) is placed on the dental implant. You'll wear a temporary restoration while the implant fuses to the bone.
4. How long will they last?
Dental implants are typically very long-lasting. Unless a problem arises, dental implants can last for decades with the potential to last a lifetime. Good dental hygiene (brushing twice a day, flossing once a day and visiting the dentist for routine cleanings) is one of the best ways to prevent problems resulting in tooth loss and dental implant failure.
5. How much do dental implants cost?
During your consultation appointment, our office team will make sure you are provided with a cost estimate for the procedure you are considering. We'll also discuss payment and financing options with you.
Are you interested in implant dentistry in the Airdrie area to replace one or more missing teeth? To learn more about dental implants and to schedule a consultation with Dr. Chee, please call us at 403-543-4600.