Posted: September 28, 2017
At Aesthetic Dental Studio, we have always believed in the importance of being open, honest and up-front with our Calgary-area patients. This is a core part of our practice philosophy.
So, when patients ask us about the dental implant process and what they can expect from us, especially with regards to the time commitment, we're always very clear: dental implants are time-intensive. The process takes a while.
Of course, we have heard from many patients that the investment of time is completely worth it. Dental implants offer a strong, durable tooth replacement that can last for decades.
Why Do Dental Implants Take So Long?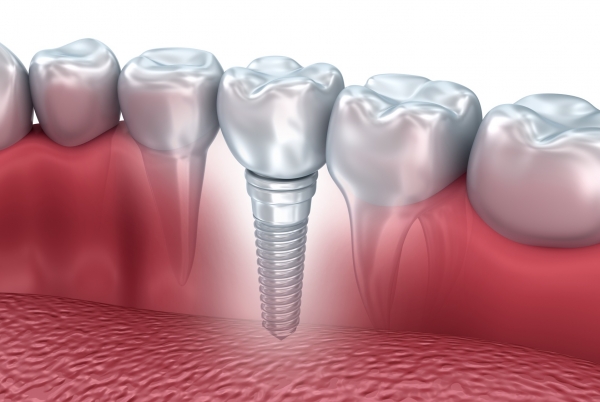 Every patient is unique, and no two patients have exactly the same dental implant experience. Speaking generally, however, the dental implant process usually takes approximately 4-6 months.
We understand this amount of time can be a little surprising at first. We know you're busy and you don't really want to invest significant time in a dental procedure. But this time investment explains why dental implants are so durable.
Here's how it works. After taking a CAT scan of your mouth, we identify the best position in your jaw in which to place the implant. We ensure the placement is exact, and then you undergo surgery to actually have the implant placed in your jaw.
At this point, we have to wait between three and four months for your jawbone to fully integrate the implant. This process, called osseointegration, is how your body accepts and accommodates new materials – for example, a titanium dental implant.
But this process is one of the reasons your dental implants will last so long (if properly cared for). Your implant will be strongly rooted in your jawbone, providing an incredibly strong foundation for your replacement tooth – often a dental crown.
What Are The Advantages of Dental Implants?
Upon hearing this, many patients express skepticism. Are implants really worth the trouble? Will that time investment pay off?
Every patient has unique needs and priorities, of course, but we are confident that dental implants – and the time-intensive process they require – offer a number of advantages over dentures and other methods of tooth replacement.
These advantages include:
Strength and durability – if cared for properly, implants can last decades
Reversal of the loss of jawbone density associated with a missing tooth
Restoration of speaking and chewing capabilities
Inconspicuousness
Of course, we understand that not everyone is a good candidate for dental implants. That's why we take the time to talk to you, listen to your goals, address your concerns and answer all of your questions. We will only recommend implants if they're right for you.
The good news is that our office has all the tools and technology needed to thoroughly evaluate your jaw and gums, which is crucial if you are to successfully undergo dental implant surgery. Our dentists and staff members have ample experience helping patients like you achieve your goals.
Please call Aesthetic Dental Studio today at 403-543-4600 to schedule a consultation. We serve patients in Calgary, Alberta.