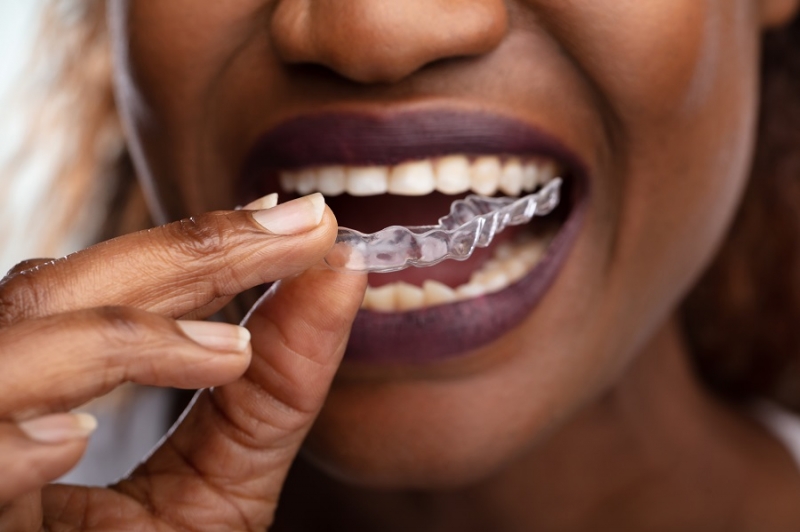 One of the best things about Invisalign® is that you can keep eating all your favourite foods. Unlike traditional braces-wearers, you don't have to worry about a popcorn kernel breaking a bracket or hard candy bending a wire. You've got the convenience of removable aligners — just remember to take them off before you chow down.
Eating with Invisalign® can be tempting at times, like when you want a quick snack or when you find yourself at a restaurant without your carrying case. However, it's important to take your aligners out to eat and drink, making sure to brush your teeth before you put them back on.
The main concern is that you might damage your trays if you eat with them. They could also become stained by foods such as pasta sauce and blueberries. These issues may require you to wear your previous aligners, your next aligners, or order a replacement.
The last thing you want is to get thrown- off-track with your treatment plan. Keep your aligners in great shape by removing them before eating or drinking anything except still water. You should also take them off before you chew gum.
Some patients ask if they can sip their morning coffee or sugary drinks through a straw without removing their aligners. A straw may help, but it's still not recommended. Your drink is bound to have some contact with your aligners. It's simply not worth the risk of warping or staining the material.
If you slip up once or twice, try not to worry. Brush your teeth and rinse your aligner. Inspect it for signs of serious damage. If you notice any issues that would affect your ability to wear your trays, call our office right away and we'll help you sort things out.
Schedule an Invisalign® Consultation in Calgary
We're here to answer your questions before, during, and after Invisalign® treatment. Schedule a consultation with Dr. Gordon Chee today by calling 403-543-4600. Aesthetic Dental Studio serves Calgary, Cochrane, Airdrie, and nearby areas of Alberta.