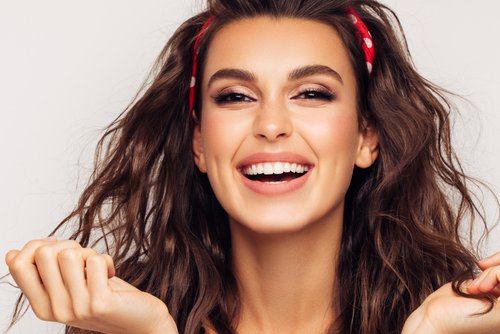 Whitening the smile with over-the-counter whitening products can help some patients with mild discoloration of the teeth's enamel. However, it is not for everyone and can only do so much in lifting stains. Dr. Gordon Chee and his team at Aesthetic Dental Studio in Calgary, AB, are pleased to offer professional whitening options for patients to choose from. But how else can you obtain a whiter smile? Our team can educate you on the solutions available to assist in achieving a whiter, brighter grin with cosmetic dentistry solutions.
These include some of the following services:
Dental bonding. Dental bonding is a fast and easy way to cover imperfect teeth. This bonding material is formulated with a composite resin that can be applied to the teeth, cured and hardened using special light-based devices, and then filed and polished to look just like natural tooth enamel.
Porcelain veneers. Porcelain veneers are thin facings customized to the color of the patient's existing teeth. They are bonded on the front of the tooth and can not only give the appearance of a whitened smile but address problems of the tooth, such as chips and cracks.
Dental crowns. Teeth closer to the sides and back of the mouth can be covered with a dental crown, or "cap," to disguise the discoloration of a single tooth.
Oral care habits. Brushing and flossing after every snack and meal is highly encouraged to reduce the risk of staining the natural tooth enamel from foods, drinks, and habits such as smoking or chewing tobacco.
Routine dental cleanings. We encourage patients to follow the American Dental Association recommendations of seeing a dental professional for a cleaning and evaluation every six months--at least. Patients with dental concerns such as periodontal disease and tooth decay may need more frequent visits to monitor oral health.
Start your path to a whiter smile!
If you live in the area of Calgary, AB, and want to connect with an aesthetic specialist who can improve the appearance of your smile, consider speaking to Dr. Gordon Chee and his team at Aesthetic Dental Studio. Call 403-543-4600 to request a visit at our facility, conveniently located in Dalhousie Station Mall next to Chapters.