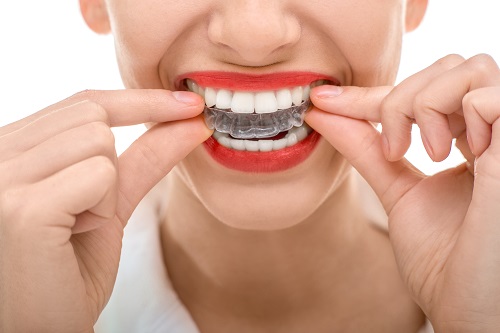 It's safe to say anyone considering braces is hoping the treatment is completed as quickly as possible. For adults especially, metal wires and brackets can make you feel a little less confident in your face-to-face interactions. Some people are good candidates for Invisalign®, which – if you don't already know – are clear, plastic teeth aligners that work similarly to braces.
It's risky to generalize about the treatment time for Invisalign versus that of braces. In order to get an accurate comparison, you need to visit an experienced dentist for a consultation and exam. For the most part, the treatment length of braces and Invisalign tend to be similar in most cases. It really depends on the alignment of your teeth and bite, and what kind of tooth movements need to take place to create the smile you want.
It is possible that Invisalign can end up taking more time or less time than braces. The goal of our dentist, Dr. Gordon Chee, is that your teeth are aligned in a healthy, functional manner; the relationship between your upper and lower arches of teeth result in a balanced bite; your smile looks gorgeous, and that all aspects of your teeth and smile are symmetrical and attractive. The first step is to determine the most effective treatment option for you.
If you are interested in Invisalign in Calgary, Airdrie or the surrounding areas in Alberta, experienced dentist Dr. Gordon Chee can determine if you are a good candidate. To arrange a consultation with Dr. Chee, please call our dental staff at 403-543-4600.