At Aesthetic Dental Studio, we find the right solution for each patient to achieve optimum oral health, a stronger bite and a natural, radiant smile that will endure for years. Calgary general dentist Dr. Gordon Chee offers customized restorative dentistry options, including: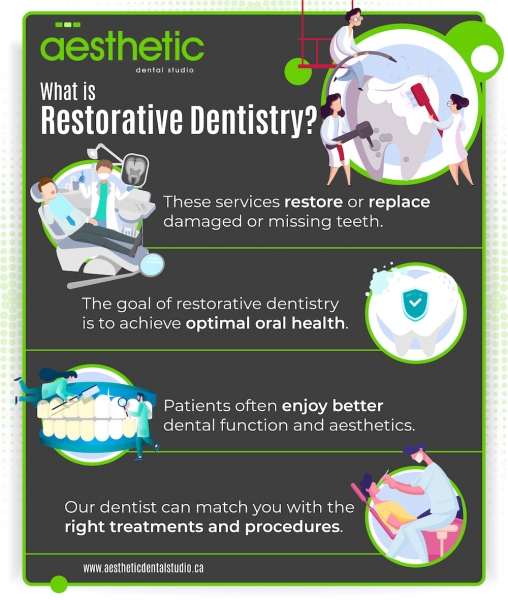 Today, metal fillings are obsolete. Tooth-colored composite fillings, created as an alternative to metal materials, are more attractive and more natural looking.
Aesthetic Dental Studio often replaces old, silver fillings with newer porcelain and composites to provide patients with natural looking, durable restorations that function perfectly. Using composite filling materials strengthen the tooth and provide longevity and beauty.
If you have one or more cosmetic dental issues, let Aesthetic Dental Studio restore your smile with a variety of beautiful options, including:
Today, there is no reason not to have a stunning, healthy smile.
Endodontics is the study of the inside of the tooth, called the pulp. Sometimes, tooth decay requires removal of the pulp in a procedure known as a root canal. The root canal is a dental treatment that can save a tooth that is affected by a high level of decay.
A porcelain crown can protect a tooth from further damage after a root canal procedure. Crowns can also restore teeth that are significantly damaged from fracture, decay or a failed restoration. The crown is a porcelain cover that fits precisely over the tooth, strengthening the tooth and restoring its original shape and size.
All-porcelain crowns are strong, durable and long-lasting. Aesthetic Dental Studio offers both three-quarter and full crowns.
A fixed dental bridge replaces missing original teeth. Strong, durable and made from porcelain, dental bridges support a strong bite and prevents remaining natural teeth from shifting and creating unwanted gaps.
Bridges include one or more artificial teeth, supported by crowns and fixed into place for a secure fit that allows patients to eat, speak, and smile with complete confidence. Dr. Chee will customize your dental bridge to fit your mouth. With proper maintenance, your dental bridge will last for many years.
Dental implants are an option in dental technology and offer a long-term solution for patients with missing teeth. Made of pure titanium, dental implants are artificial tooth roots placed in the jaw to serve as secure anchors for a single dental crown, a bridge, or a full set of dentures.
Aesthetic Dental Studio offers dental implants of impeccable quality, working in coordination with respected and talented oral surgeons in our region.
The Calgary restorative dentistry team at the Aesthetic Dental Studio will find a treatment that works for you. Please contact the Aesthetic Dental Studio through our online form or call 403-543-4600 today to schedule a free consultation with our our general dentist in the Cochrane area.