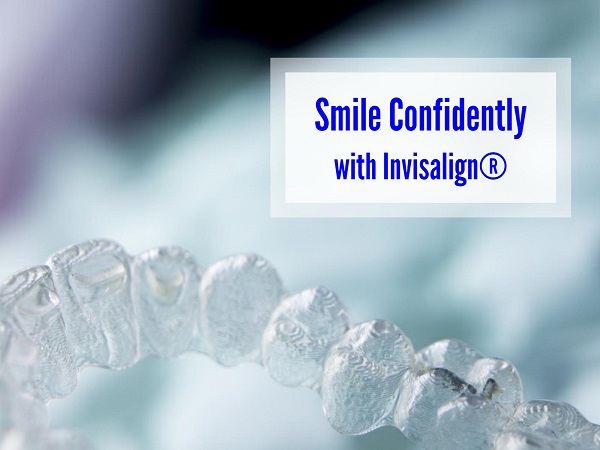 Some of us don't have the perfectly straight smile we'd love to be able to show off. Many people do not smile as confidently or frequently as they would like due to concerns about crooked teeth or a misaligned bite. While in the past the only option for fixing these concerns was braces, many patients in Calgary can now enjoy orthodontic correction with Invisalign®.
Dr. Gordon Chee is a proud provider of this convenient, comfortable alternative to braces. To find out if Invisalign is right for you, please call Aesthetic Dental Studio today at 587-315-5080 to schedule a consultation. Dr. Chee sees patients from Calgary and other communities in Alberta.
What is Invisalign?
Over 5 million people worldwide have improved the appearance of their smile with Invisalign, including teenagers! Invisalign is a cosmetic dentistry alternative to fixed braces. Instead of brackets and wires, Invisalign straightens your teeth using clear, removable aligners that are virtually unnoticeable. These aligners are customized to match your unique treatment plan, and apply gentle pressure in order to gradually straighten your smile.
Benefits of Invisalign Treatment
Invisalign treatment offers many benefits, including:
You can take them out to eat and drink, meaning there are no food restrictions. Other orthodontic treatments require you to avoid crunchy food like popcorn and apples or sticky foods like caramel.
 
You are able to remove the aligners for special occasions. Though the aligners are clear and hard to detect, some people still prefer to remove them to attend a wedding, job interview, or other important event. You can also take them out to play sports or a musical instrument. Just make sure that you still wear them for at least 20 hours a day to achieve optimal results.
 
It is easy to maintain proper oral hygiene because you can continue your regular routine of brushing and flossing.  It may take more time to brush your teeth if you have another orthodontic option that is not removable. To properly brush your teeth with braces, you need to use a small tool to go between the brackets and remove trapped pieces of food.
 
Clear aligners can offer a more comfortable orthodontic experience. Traditional metal braces use wire and protruding bits of metal that may scratch the inside of your mouth or gums. Invisalign aligners are made of a smooth material and are customized to fit your mouth perfectly by a lab. They also do not require potentially painful tightening visits like braces do.
 
They can offer a shorter treatment time. With traditional braces, you may need to visit the dentist every one to two weeks for adjustments, and treatment for adults can take upwards of 36 months. With Invisalign, you will simply return to our office every four to six weeks for a new set of aligner trays, and treatment can often be completed in as few as 12 to 18 months.
Who Is a Good Candidate for Invisalign?
Crooked teeth hamper more than just a confident smile. They can be difficult to properly clean, which may lead to future gum disease, tooth loss and general health risks such as heart disease and stroke. The decision to treat crowded, crooked or protruding teeth is important for your overall well-being. Invisalign is often an ideal orthodontic treatment for adults and teenagers!
How Do I Know If I'm Eligible For Invisalign?
In order to determine your candidacy for Invisalign, Dr. Chee will perform a thorough examination of your teeth and gums. It is important that you do not have any oral health issues, so conditions such as gum disease must be treated before you can be eligible for Invisalign.
What Can Invisalign Treat?
In many cases, Invisalign can treat the same issues as regular braces, including:
Crooked teeth
Overlapping teeth
Gaps between teeth
A misaligned bite, known medically as malocclusion
Invisalign offers several distinct advantages, but may not be right for everyone. Patients with mild to moderate bite issues typically achieve the best results from Invisalign. For severe instances of malocclusion, Dr. Chee may recommend braces or another orthodontic treatment.
What to Expect During Invisalign Treatment
First, Dr. Chee will perform a digital scan of your mouth in order to develop a precise, individualized treatment plan. Your aligners are then custom-made by a lab in order to accurately shift the position of your teeth and improve the appearance of your smile. You need to wear your aligners for 20 to 22 hours a day to achieve the best results, and you most people are instructed to change to a new set of aligners every week or two.
Dr. Chee will continually monitor your progress throughout the treatment, ensuring that each set of aligners fits you properly and that your teeth are moving as planned.
How Long Does Invisalign Treatment Take?
The length of your treatment will depend on a variety of factors including how often you wear your aligners and what specific dental concerns are being addressed. The average treatment time is 12 to 18 months, significantly less than braces.
Schedule Your Invisalign Consultation Today
To find out if Invisalign is right for you, please contact Aesthetic Dental Studio online or call 587-315-5080 today to schedule your consultation. Dr. Chee serves patients in Calgary, Cochrane, Airdrie, and nearby areas of Alberta.