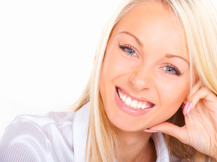 For people with significant damage to their teeth, whether as a result of fracture, decay, or a failed restoration, a porcelain crown is a good solution. The tooth crown is a porcelain sheath that fits over the tooth, restoring it to its original shape and size.
This restorative dentistry option protects and strengthens the tooth. Calgary dentist Dr. Gordon Chee can discuss the benefits of this procedure during a free consultation.
Three-Quarter Crown for Cusp Fracture
A tooth can be significantly weakened by the presence of a filling. Sometimes, as a result, the tooth will suffer what is known as a cusp fracture, in which a significant portion of the top of the tooth, or cusp, breaks off, leaving the tooth uneven, unsuitable for chewing, and vulnerable to further damage.
In order to restore the tooth, old fillings are first removed and new fillings are added to shape the tooth to receive the tooth crown. Then an impression of your tooth is made. At this time, you will be fitted with a temporary crown. A new crown is custom-crafted, then placed atop the damaged tooth.
Full Crown
In some cases, the tooth is best served with a full porcelain crown. This could be for several reasons. Sometimes an old or cracked filling has fostered further decay in an area where further filling is either not possible or not advisable. A large fracture of the tooth from trauma may also require a crown.
Occasionally the tooth's root can been affected by decay, necessitating a root canal, leaving the tooth without a pulp. A tooth without a pulp is still functional, but the requirements for cleaning out a diseased pulp will leave the tooth too fragile. The best solution in all of these cases is a full porcelain crown.
After decay and old fillings have been removed, the tooth is prepared for the crown and an impression of the mouth is made. A new temporary crown is made for your tooth to last you while your new tooth crown is custom-crafted at a lab. Finally, the permanent porcelain crown is bonded in place.
The Porcelain Advantage
Unlike old metal or porcelain-fused-to-metal crowns, the all-porcelain crown is an aesthetically ideal restoration. The porcelain has the same sheen and luster as dental enamel, and responds to the thermal changes in a similar fashion to minimize heat sensitivity or possible thermal cracking of the teeth. In addition, because porcelain has the same hardness as tooth enamel, the crown will neither damage nor be damaged by your other teeth.
Contact us Today
To ensure maximum lifespan for this restoration, treat your porcelain crown as you would your teeth, with good dental hygiene and regular cleanings. Dr. Chee can advise you how best to care for your porcelain crown so it complements the health and beauty of your smile. Call 403-543-4600 or contact Aesthetic Dental Studio in Calgary online today.