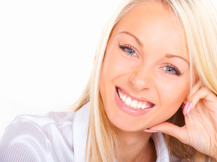 For people with significant damage to their teeth, whether as a result of fracture, decay, or a failed restoration, a porcelain crown is a good solution. The tooth crown is a porcelain sheath that fits over the tooth, restoring it to its original shape and size.
This restorative dentistry option protects and strengthens the tooth. Calgary dentist Dr. Gordon Chee can discuss the benefits of porcelain dental crowns during a free consultation at our Calgary office.
See What Our Patients Have To Say! 
Best team!! I just went through a smile rejuvenation with 28 porcelain crowns as well as neuromuscular bite work. I have spent MANY hours in the dentist chair this year, and I can't say enough about the team at Aesthetic Dental Studio. Dr Chee stands behind his work, and it is EXCELLENT work! They make you feel at home and always take the time to answer your questions and ensure you are on board and comfortable with any recommendations before proceeding. Aside from my smile rejuvenation, I have also gone to Dr Chee for other work including two root canals. My experience is always great. Highly highly recommend this team if you are looking for a switch! - Megan B.
Three-Quarter Crown for Cusp Fracture
A tooth can be significantly weakened by the presence of a filling. Sometimes, as a result, the tooth will suffer what is known as a cusp fracture, in which a significant portion of the top of the tooth, or cusp, breaks off, leaving the tooth uneven, unsuitable for chewing, and vulnerable to further damage.
In order to restore the tooth, old fillings are first removed and new fillings are added to shape the tooth to receive the tooth crown. Then an impression of your tooth is made. At this time, you will be fitted with a temporary crown. A new crown is custom-crafted, then placed atop the damaged tooth.
Full Crown
In some cases, the tooth is best served with a full porcelain crown. This could be for several reasons. Sometimes an old or cracked filling has fostered further decay in an area where further filling is either not possible or not advisable. A large fracture of the tooth from trauma may also require a crown.
Occasionally the tooth's root can been affected by decay, necessitating a root canal, leaving the tooth without a pulp. A tooth without a pulp is still functional, but the requirements for cleaning out a diseased pulp will leave the tooth too fragile. The best solution in all of these cases is a full porcelain crown.
After decay and old fillings have been removed, the tooth is prepared for the crown and an impression of the mouth is made. A new temporary crown is made for your tooth to last you while your new tooth crown is custom-crafted at a lab. Finally, the permanent porcelain crown is bonded in place.
The Porcelain Advantage
Unlike old metal or porcelain-fused-to-metal crowns, the all-porcelain crown is an aesthetically ideal restoration. The porcelain has the same sheen and luster as dental enamel, and responds to the thermal changes in a similar fashion to minimize heat sensitivity or possible thermal cracking of the teeth. In addition, because porcelain has the same hardness as tooth enamel, the crown will neither damage nor be damaged by your other teeth.
How Long Will My Porcelain Crowns Last?
Dental crowns can offer good longevity but they will likely need to be replaced at some point. The average lifespan of a porcelain crown is around 10 to 15 years. Keep in mind that factors such as your dental habits, the health of the tooth, and the quality of the crown can play a role.
Signs that it may be time to replace your crown include:
Pain or discomfort in the crowned tooth
Movement or lack of stability in the crown
Chips or damage to the dental restoration
Stains or poor aesthetics that detract from your smile
Is There A Recovery Period Following The Placement Procedure?
Placing a dental crown is a straightforward process with a manageable recovery period. You will likely be dealing with some inflammation or irritation for several days. You may also notice that your tooth feels different than before. That is because it might not have the exact same shape.
Our dentist will give you detailed aftercare instructions for your porcelain dental crown at our Calgary office. If you experience pain or notice that your bite still feels off after a few days, you should contact our office so we can make adjustments.
Am I The Right Candidate For Porcelain Crowns?
Many people can benefit from porcelain crowns. They are a natural-looking way to restore your smile. Our dentist might recommend that you get a dental crown for various reasons, such as:
Protecting a damaged or decayed tooth
Strengthening a tooth with a large filling
Anchoring a dental bridge
Concealing a misshapen or discolored tooth
Covering a dental implant
Strengthening a tooth after root canal therapy
Your candidacy for any dental procedure is something that must be evaluated in person. Book a consultation at Aesthetic Dental Studio in Calgary to learn if porcelain crowns are right for you.
How Should I Care For My Porcelain Crowns?
Porcelain crowns require the same care as healthy teeth. It is important to follow steps such as:
Brushing your teeth at least twice a day
Flossing at least once a day
Getting a dental checkup every six months
Wearing a mouthguard if you grind your teeth
Never using your teeth as tools
These healthy habits can help your crowns last for a long time. Some patients have had the same crowns for decades. Dr. Chee will gladly provide personalized care recommendations.
Contact Us Today
To ensure maximum lifespan for this restoration, treat your porcelain crown as you would your teeth, with good dental hygiene and regular cleanings. Dr. Chee can advise you how best to care for your porcelain crown so it complements the health and beauty of your smile. Call 403-543-4600 or contact Aesthetic Dental Studio in Calgary online today.