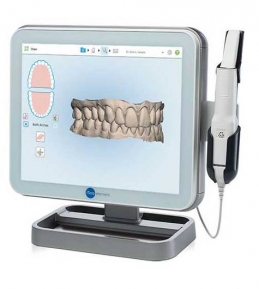 Aesthetic Dental Studio uses iTero technology to give you the best quality dental restorations. As part of our commitment, we are happy to utilize the iTero Digital Impression System to replace traditional impressions in creating your dental crowns, bridges, and implants.
The iTero Digital Impression System has many benefits for you, including:
Increased comfort
Faster impression
What People Say About Us!
"Although i'm not a big fan of dentists at all, this place makes me feel comfortable. Would definitely check it out if you are in need of a new dentist ! Dr Chee really cares."
The iTero Digital Impression System uses technology to give you the most comfortable experience possible during your dental restoration process.
Traditional Impressions
Taking an impression is an important part of crafting dental restorations. In order to ensure that a restoration fits precisely into your bite without causing neuromuscular tension or damaging other teeth, the restoration must be custom-crafted for the space, and the only way to do that is to have a precise image of the mouth.
Traditionally, impressions were taken by putting a viscous liquid in the mouth. Sometimes the liquid was a rubber-like polyvinyl material and sometimes it was a pasty alginate material. The main characteristics of the material used were that it had to flow into voids and be able to be cured solid. Comfort was secondary. Many people have negative reactions to the material used for making the impression, including nausea or gagging. Others dislike the length of time necessary to wait for the curing of the material and the bad taste.
These problems are all remedied by the iTero Digital Impression System.
The iTero Digital Impression System

With the iTero Digital Impression System, you don't need to have any goo put in your mouth. Instead, our team will utilize a compact wand that scans your teeth in passes. The computer then assembles the images from these passes into a 3-dimensional digital image of your teeth.
At this point, your dentist can make any necessary adjustments to ensure your restoration fits your needs. Then the digital impression is transmitted via wireless Internet to the laboratory, where a model is milled, then used to make the final, high-quality restoration using the same methods that were used to turn other impressions into restorations.
For more information about how iTero dental technology can benefit you, please call 403-543-4600 or fill out our online form to reach Aesthetic Dental Studio.