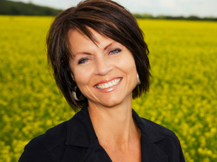 Endodontics is the field of dentistry concerned with the health of the inside portion of a tooth, called the pulp. If you're suffering from a toothache caused by infection or injury to a tooth's pulp, Calgary dentist Dr. Gordon Chee will likely recommend root canal therapy.
Many of our patients in Calgary are concerned about root canal therapy, but Dr. Chee and his team will take steps to help you feel more at ease. Please call Aesthetic Dental Studio today at 403-543-4600 to schedule a consultation in Calgary, Canada.
When Is Root Canal Therapy Necessary?
Dentists often recommend endodontic treatment in order to save a tooth when the health of the pulp becomes compromised. Once a tooth is fully developed, the pulp can be removed safely.
A root canal procedure might be necessary in the event of:
Serious tooth decay
Fracture of the tooth, exposing the pulp
Injury to the tooth resulting in soft tissue damage
If you begin experiencing pain, sensitivity to hot and cold and tenderness in the gums, talk to your dentist as soon as possible. When left untreated, infection of dental pulp can get worse and potentially cause an abscess to develop at the root of the tooth.
How Dr. Chee performs Root Canal Therapy
When you visit our Calgary office, Dr. Chee will answer your questions about endodontics and explain the steps of a root canal. The procedure involves the following:
Our team administers a local anesthetic to numb the tooth and surrounding gum tissue
A rubber dam isolates the affected tooth and keeps it clear of saliva
Dr. Chee drills through the tooth's enamel and dentin into the pulp chamber
The infected pulp is removed with tools called root canal files and diligently cleaned
The inside of the tooth is sealed with materials like gutta-percha (a natural rubber), as well as a temporary or permanent filling
Depending on the strength and stability of the tooth after root canal therapy, Dr. Chee might recommend reinforcing the filling with a metal post. Direct and indirect methods of placing this post are available, and Dr. Chee can explain which option might work best for you.
Patient Testimonial
"Love the work done on my teeth by Dr. Chee, the results are outstanding. Thankful for such an extremely talented, kind and caring professional. Thank you to all of his great staff for answering all of my questions and helping with the process. Exceptional patient experience."
What happens after the therapy is completed?
The final step of root canal therapy is the creation of a custom dental crown to complete the restoration process. The crown will seal off the inside of your tooth and return your normal chewing function.
Our dental team will take impressions of your mouth so the crown fits your tooth perfectly. The dental porcelain will be shaded to match the color of surrounding teeth, so your smile will still look natural.
Schedule a consultation in Calgary, Canada today
It's not uncommon to be nervous about root canal therapy. To learn more about our endodontic services, please contact Aesthetic Dental Studio online or call 403-543-4600 to schedule a one-on-one consultation. Dr. Chee serves patients in and around communities throughout the Calgary area.