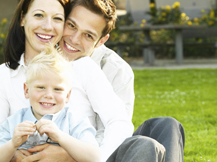 Laser dentistry has helped patients tolerate dental work much more easily by decreasing healing time and bleeding associated with gum procedures. Surgical lasers are more accurate than traditional methods and allow our dentists to conserve as much bone and tooth as possible.
There are a variety of uses for lasers in the field of dentistry, including laser gum therapy, tooth whitening, and aesthetic trimming or cauterizing of gum tissue. Lasers are also used for periodontal care by removing bacteria from periodontal pockets and reshaping the gum line. To begin exploring which laser treatment might be best for you, please call 403-543-4600 to arrange a free consultation. Dr. Chee serves patients throughout Alberta
Gum Disease Is a Serious Problem
Gum disease is the leading cause of tooth loss for American adults. Reports indicate that millions of people are unaware that they have gum disease, and about 30% of the population is genetically susceptible to contracting the condition. Other risk factors include smoking, pregnancy, puberty, stress, grinding teeth, poor nutrition, diabetes, and poor oral hygiene.
When gum disease sets in, it destroys soft tissue, breaks the strong bond between teeth and supporting gums, and can cause jawbone deterioration, as well as tooth loss.
How Lasers Work
Lasers work by heating the water in the body's cells to the boiling point, causing the cells to burst. Depending on whether the lasers are used being on hard or soft tissue, different wavelengths are needed.
At the Aesthetic Dental Studio in Calgary, we use an ultrasonic scaler to remove hardened plaque, called tartar or calculus, from your teeth. Next, we will smooth rough tooth roots where plaque and bacteria tend to accumulate. We'll also irrigate the pockets between the teeth and gums to wash away debris and sterilize the area. The soft tissue laser will disinfect the pocket and seal blood vessels, nerve endings, and lymphatics so that there is no infection, bleeding, or swelling following laser treatment.
Soft tissue laser therapy for deep cleanings presents many advantages. The laser beam seals as it cuts away damaged tissue, so bleeding is minimal. Because of the reduced trauma, most patients feel better than they would after traditional deep cleanings.
Thanks to recent advances in laser dentistry development, our dentistry team uses techniques that speed the healing process of your gums by using laser gum therapy. Lasers can disinfect gum tissue with great accuracy by producing a beam of concentrated light, and they also minimize the chance for future infection.
If you have questions about laser dentistry, please don't hesitate to call 403-543-4600 or arrange a free consultation through our online contact form. Aesthetic Dental Studio serves patients throughout Alberta, including Cochrane and Calgary.