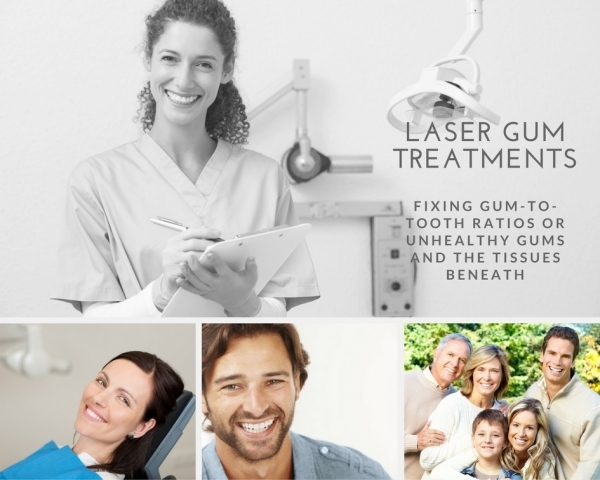 Laser gum treatment is the way to treat gum disease. Modern laser technology makes it possible for our dentists to dramatically reduce infection beneath the gum tissue, conservatively and painlessly, leaving the healthy gum tissue untouched. This simple procedure is completed quickly and without the need for anesthesia. Laser gum therapy is appropriate for certain stages of gum disease. The only way to know if it's right for you is to consult our experienced dentists in Calgary. To arrange your appointment, please call our experienced staff at 403-543-4600.
What is Laser Gum Therapy?
This laser dentistry therapy is a treatment for gum disease. During the treatment, a concentrated beam of laser energy is exposed to the tissue via a handheld device. The laser dramatically reduces the presence of bacteria harbored in the gum tissue by vaporizing the bacteria. In this way, the gum tissue is disinfected, thereby halting the advancement of the infection. The laser also sterilizes the area, and stitches are unnecessary because the laser cauterizes the treated tissue.
Gum disease is caused by the presence of bacteria harbored in pockets that form on the side of your teeth. If the infection is left untreated, it will worsen and invade deeper layers of tissue. In the most advanced cases, gum disease breaks down the bone supporting your teeth, which can ultimately lead to tooth loss. Lasers offer a highly effective, quick and painless way to stop the infection.
Patient Testimonial
"I am so grateful for Dr. Chee and his staff. My results are outstanding, and never been happier about my smile. Dr. Chee's very caring! He takes the time to listen to you, and explains everything thoroughly. I will definitely be back when needed." - D.K.
Candidates for Laser Gum Therapy
The only way to know if you are a good candidate for this treatment is to visit our experienced dentists for an in-person consultation. The right treatment for you depends on several factors our dentists will assess, including:
Stage of the infection
Your goals and expectations for treatment
Whether any other treatments will be more appropriate
The very earliest stage of gum disease is known as gingivitis. The gums are inflamed and irritated in this stage. Gingivitis does not require laser treatment. It can usually be reversed with a professional dental cleaning and a commitment to improve your brushing and flossing routine. Early detection of gingivitis is one of the many reasons your routine dental exams are so important.
If the infection has progressed beyond gingivitis, then scaling and root planing may be needed. This treatment amounts to a deep cleaning by our dentists, in which they remove the buildup of infectious plaque and tartar beneath the gums. If the gum disease has progressed beyond what scaling and root planing can treat, then laser gum therapy may be recommended.
Advantages of Gum Therapy
Laser gum treatment is highly beneficial in terms of effectiveness and patient comfort. The advantages are particularly clear when you compare the technology to invasive gum surgery of the past:
Optimum accuracy
Reduced risk of infection
Reduced bleeding and swelling
No incisions or sutures
Prevents unnecessary destruction of surrounding tissue
Afterward, your recovery will be minimal. You should be able to get back to work and your normal activities quickly, even the same day. Many patients prefer to take the rest of the day off. The laser seals blood vessels as it treats the infected gum tissue, so any swelling or post-operative discomfort is minimal to nonexistent.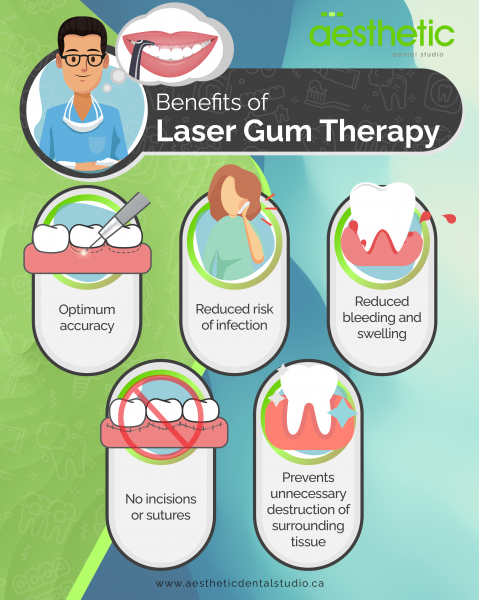 Some patients experience mild soreness or achiness in their mouth following the treatment. If this is the case for you, our dentists may recommend an anti-inflammatory medication. Over-the-counter pain relievers are usually more than adequate in relieving any discomfort. One of the major advantages of laser gum therapy is how painless the procedure is, both during the treatment and afterward.
Common Questions about Laser Gum Therapy
Q: Does the laser treatment hurt?
A: Laser gum therapy has been described as a painless or virtually painless treatment. Each person is different, and your experience will be unique to your tolerance for discomfort, but generally speaking, a primary advantage of laser treatment is the lack of pain.
Q: How much does it cost?
A: Cost is a consideration for most patients. Part of your one-on-one consultation will be informing you of the estimate of the final cost and helping you determine your insurance coverage.
Q: Will the results be permanent?
A: There isn't any definitive evidence concluding how long gum therapy results will last; however, we know from our patients' first-hand accounts and the available research findings that laser gum therapy provides long-lasting results. If you keep up with good oral hygiene habits, you should enjoy optimal gum health from now on.
Q: Will laser therapy allow me to avoid having a tooth pulled?
A: When gum disease is allowed to progress untreated, the infection begins to break down the bone and ligaments supporting your teeth. Tooth loss or the need for tooth extraction is common in the most advanced stages of the disease. Because laser gum therapy stops the infection, you may be able to avoid tooth loss by way of the treatment. The only way to know for sure is to consult our dentists. They can assess the severity of the condition and the best method to treat it.
Schedule Your Laser Gum Therapy Consultation In Calgary, AB!
If you are searching for experienced, compassionate dentists who offer the latest laser gum therapy treatments in Airdrie or elsewhere in Calgary, Alberta, please call Aesthetic Dental Studio at 403-543-4600 to arrange a consultation. Or, you can fill out the form in our contact page to schedule your appointment with Dr. Gordan Chee.