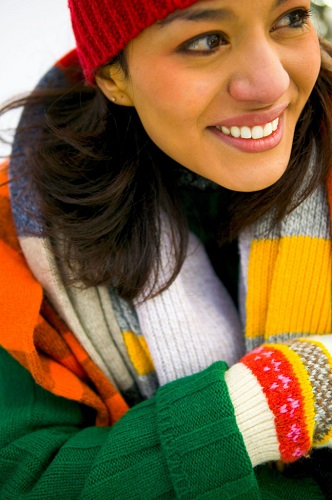 In Calgary, Alberta, Dr. Gordon Chee and our entire staff are personally committed to restoring your best dental health. We also want you to enjoy the confidence that comes with a great smile. Dental implants are a durable, long-lasting and effective way to replace one or more missing teeth. Not only that, but they also have the shape, natural luster and sheen of real teeth. Dr. Chee uses computerized scanning to plan a customized implant dentistry surgery. To schedule a consultation, please call Aesthetic Dental Studio at 403-543-4600.
What Are Dental Implants?
Dental implants replace lost teeth. An implant can be used to replace a single tooth, or a combination may be used to replace several teeth. Implants can even serve as anchors to support a complete denture.
These tooth restorations stand out from others because of how they work. The implant itself actually serves as a replacement tooth root. Placed in the bone beneath your gums, the dental implant will support the restoration above the gums. Dental implants are made of titanium, and they fuse with the bone in which they are inserted, thereby forming a secure, durable bond.
The Implant Dentistry Process
Once the implant has fully integrated with the jawbone, Dr. Chee will fabricate a custom porcelain crown to complete replacement of the tooth above the gums. For patients who are missing more than one tooth, dental implants can also support a bridge or denture. All of these restorations are fixed to the top of the implant, which means your tooth replacement will be very secure. It won't slip when you speak or eat.
The dental implant process at Aesthetic Dental Studio will progress as follows:
A CAT scan will provide Dr. Chee a 3D map of your mouth
We will identify the best placement for the implant using virtual modeling software
Our lab will create a custom implant guide for exact placement
During surgery, the implant will be placed into the jawbone
Dental implants usually take three to four months to heal and become integrated with the bone. At that point Dr. Chee can complete the portion of the implant above the gum line. Your tooth-colored crown or other restoration can be anchored in its final place about two weeks later.
Dental Implant FAQs
Dental Implant Candidates
Dr. Chee will perform a comprehensive assessment of your oral health. Your jaw must have enough bone density to be able to support the implant, and you shouldn't suffer from gum disease or other chronic illness.
Healthy patients who practice good dental hygiene are generally good candidates for dental implants. The treatment can help restore look, feel, and functionality to the mouth after losing a tooth due to:
Injury to the teeth or gums
Tooth decay
A failed root canal
Gum disease (must be treated before undergoing implant dentistry)
Virtually any other cause of tooth loss
Patients who get dental implants often find them to be a worthwhile investment – these are the only restorative option that permanently replaces lost teeth. They can last for decades because of the bond they form with the bone.
Generally speaking, ideal dental implant candidates:
Have adequate bone density to support the dental implant
Possess healthy gums and teeth
Maintain proper oral hygiene
Do not smoke, or are willing to quit smoking for the duration of the dental implant process
Do not suffer from medical conditions which could affect healing abilities, such as diabetes or autoimmune disorders
Are committed to undergoing the entire dental implant process, which can take four to twelve months to complete
Are prepared for the healing process, which can take a full six months after bone material is placed and an additional six months after the implant is placed, before the crown can be attached
Have not had any bisphosphonate medication treatment (usually for cancer treatment)
Having sufficient bone structure in your jaw to support dental implants is one of the most fundamental criteria for dental implant candidacy.  Dental implants require strong bone density to withstand the rigorous forces of chewing and eating. Without a strong jaw, the implants will fail.
In certain instances, a bone graft can restore adequate density and height to your jaw. Dr. Chee will tell you if a bone graft is necessary during your consultation, before beginning the dental implant procedure.
Gum disease is a common issue when it comes to dental implant candidacy. Gum disease is often the cause of tooth loss. If you suffer from gum disease, it must be treated before undergoing the dental implant process. Once you have successfully completed your periodontal treatment, you can commence with the dental implant procedure.
Computer-Guided Implant Dentistry
Accuracy is critical to the proper placement of dental implants. Computerized imaging may enhance the success of your implant procedure.
Once Dr. Chee has determined that you are a candidate for dental implants, he will begin creating a custom treatment plan. Positioning implants so they look, fit and feel right within your mouth is important to the success of the procedure, which is why Dr. Chee prefers to perform computer-guided implant surgery.
The surgical planning begins with a CT scan of your mouth and facial cavity. Dr. Chee will then review the scan with 3D software to assess the anatomy and identify sites where dental implants could be placed.
The 3D map will reveal which areas of your jaw have enough bone density to support dental implants. Dr. Chee will review the implant guide with you once it is complete so you can see where the implants will be placed and how the surgery will proceed.
An implant guide is more than just a visual aid for the dentist. Following it also minimizes the risk of damage to nearby structures in a patient's mouth, including:
Tooth roots
Nerve tissue
Blood vessels
Sinus cavities
Ideal placement of dental implants increases the likelihood of successful integration with the jaw bone and decreases the potential for complications. Once the implant site has healed, the restoration should also fit your smile better.  
At Aesthetic Dental Studio, we believe that embracing technological innovations is key to providing our patients in Alberta the service they deserve. Dr. Chee has found that patients who undergo guided implant surgery tend to enjoy better safety and success with the procedure than they would with hand placement of implants.
Advantages of guided implant dentistry include:
More predictable outcomes
Greater precision
Shorter recovery time
Improved aesthetic and health results
Dr. Chee will work with you closely to make sure the implant is positioned well, heals properly and is able to support the right option for filling the gap in your smile.
Why Choose Dental Implants?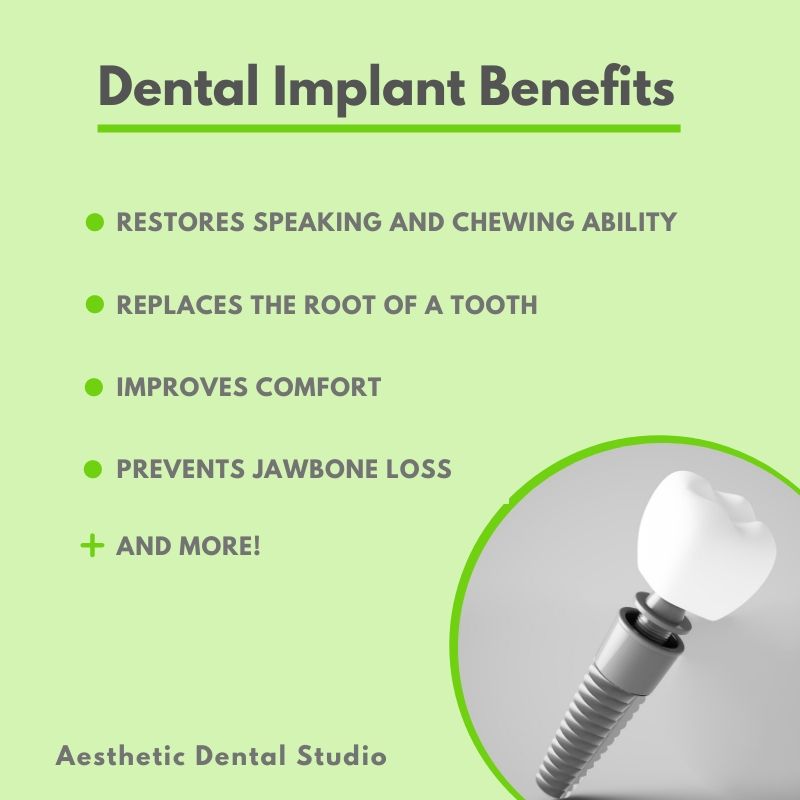 The most obvious benefit of dental implants is that they are the most permanent solution for replacing missing teeth. If you do not wish to have your dental restorations readjusted every few years, Dr. Chee can use dental implants to provide a much longer-term solution.
Inserted directly into your jaw, dental implants eventually become a part of your jawbone. Not only does this provide a firm and reliable foundation for your dental restorations, it resists the risk of jaw shrinkage and collapse. Your body uses signals from the root of your tooth to know where bone is needed in your jaw.
When you lose a tooth, you lose its root, eliminating these signals and allowing your body to reabsorb the minerals in that portion of your jaw. Only dental implants can act as a new tooth root, continuing the signals, and preserving your facial structure.
Dental implants are the most reliable form of tooth replacement and the only option for preserving bone structure. Other benefits of dental implants include:
Full restoration of speaking and chewing abilities
Absolutely natural looking results
A range of restoration options
Greater ease of cleaning
Dental implants can help restore your smile to its strongest and most beautiful appearance, but they may not be right for everyone. Good candidates for dental implants will need sufficient jawbone dentistry to support the implant, and should be in generally good oral and physical health. During your initial consultation with one of our Alberta dentists, it can be determined if dental implants are the best solution for your smile.
Next Steps – Your Consultation
If you're interested in dental implants, the next step is to schedule a consultation with Dr. Chee. Dr. Chee and our entire team are proud to bring state-of-the-art implant dentistry to people from Calgary, Airdrie, and cities across Alberta. To schedule your consultation, please call us at 403-543-4600.