What makes you unhappy about your smile? A single issue, such as mild discoloration, can often be improved with one treatment. However, if you have multiple concerns, then a combination of cosmetic dentistry treatments may be the best way to achieve the results you really want.
At Aesthetic Dental Studio, we offer smile makeovers to correct a wide variety of dental issues and create the smile of your dreams. Contact us at 587-315-5080 for your free consultation. Dr. Gordon Chee and his staff work with patients from Calgary, Cochrane, Airdrie, and nearby areas of Alberta.
What is a Smile Makeover?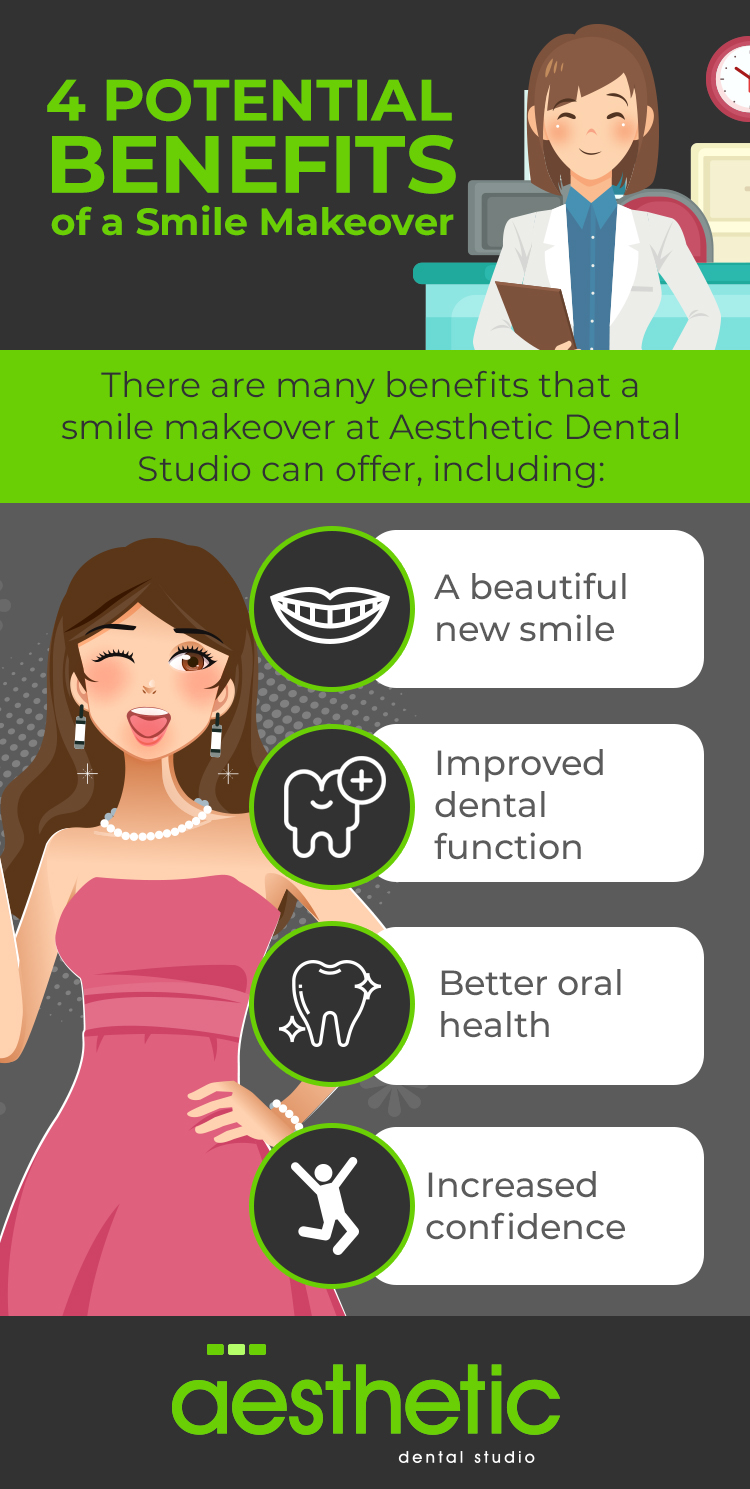 A smile makeover is a cosmetic dentistry treatment plan that uses both cosmetic and functional procedures to restore and improve your smile. Since a smile makeover is a uniquely customized process, the procedures that are included depend on the concerns that you want to address. Ultimately, a smile makeover creates a beautiful balance between every aspect of your smile while complementing your facial structure.
A smile makeover can include:
A smile makeover won't necessarily involve all of the procedures listed above. You will work with Dr. Chee to develop a plan that can help you achieve your aesthetic goals. These procedures are not performed all in one visit either. Instead, they will be spread out at a pace that fits your lifestyle and needs.
Smile Makeover Candidates
Sometimes, one or two cosmetic treatments are all it takes to achieve the results that you desire. However, people who have multiple cosmetic issues can often benefit from the transformative effects of a complete smile makeover.
You may be a candidate if you have any of the following dental concerns:
Crooked, overlapped teeth
Chipped, broken, worn teeth
Metal fillings
Missing teeth
Gaps between teeth
A gummy smile
Stained, discolored teeth
Dr. Chee can help determine if you are a candidate for a smile makeover during your free consultation.
Your Smile Makeover Consultation
A thorough dental examination is the first step to a more beautiful smile. During the consultation, you will discuss your goals, expectations, and desired outcome to determine how your new smile will look.
Before cosmetic work can begin, any outstanding dental health issues must be addressed and corrected. When the function of your mouth, teeth, and gums is in good shape, Dr. Chee is ready to move on to the "beauty" portion of enhancing your smile with cosmetic dentistry.
Dr. Chee will explain your options and discuss what procedures can help you achieve the smile of your dreams. We also use Digital Smile Design in our office to plan and create stunning smiles, and this technology may be used as part of your smile makeover. We can show you an idea of what your final results may look like using a digital wax mock-up.
How Many Procedures Can You Have Performed as Part of a Smile Makeover?
The possibilities are endless when it comes to smile makeovers. There is no limit to the number of procedures and treatments that you can have performed. Your plan will depend on what is needed to address your cosmetic concerns and achieve your desired outcome.
Some patients benefit from just one or two procedures. Others will see the most significant improvement from three or more dentistry services. Once you and Dr. Chee have aligned on your treatment plan, you will learn how many visits may be needed to transform your smile.
How Can I Prepare for a Smile Makeover?
For many people, the first step in preparing for a smile makeover is to improve their oral health. That is because underlying dental issues must be addressed before beginning a cosmetic treatment plan. These issues may include gum disease, cavities, or other oral health concerns.
In preparing for your smile makeover, you may also need to:
Complete a dental exam
Review your dental and medical history
Take digital X-rays and impressions 
Sign a smile makeover consent form
What Can I Expect From My Results?
A smile makeover is designed to improve the appearance of your teeth and gums. Ideally, your results should leave you with a stunning smile that makes you feel confident and empowered. 
If you want to get a better idea of what a smile makeover can achieve, our digital smile design service is a great place to start. It can help you visualize the outcome of cosmetic and restorative dental work before your treatment begins.
Can I Be Put To Sleep During My Smile Makeover?
It is normal to feel apprehensive about going to the dentist. However, this worry does not have to keep you from improving the appearance of your smile with a smile makeover. 
Conscious sedation is available to help reduce your anxiety, discomfort, and pain during dental procedures. In the past, conscious sedation has been called sleep dentistry, twilight sleep, and other names. However, you will not actually be asleep during your smile makeover.
Is the Treatment Painful?
No two smile makeovers are exactly alike. One treatment plan may include non-invasive options such as teeth whitening and dental bonding. Another may call for more involved procedures like dental implants or porcelain crowns. Regardless, your comfort is one of our top priorities. Ask about our innovative dental technology that can help you have a more positive experience.
What Is the Recovery Like?
Recovering from a smile makeover largely depends on the treatments and procedures involved. Some patients require minimal downtime and can return to their normal routines right away. Others may experience some temporary discomfort and sensitivity. They may also need to take a few aftercare precautions and put certain activities on hold while their mouths heal.
Are you interested in learning what your smile makeover recovery might look like? If so, schedule a free consultation at our dental practice to receive a personalized recovery estimate.
How Can I Care For My Smile Going Forward?
You can take care of your smile with regular oral hygiene. Remember to brush twice a day, floss once a day, and visit our dentist regularly to maintain the results of your smile makeover.
Other precautions that can help your results last as long as possible include:
Avoiding foods high in sugar
Minimizing between-meal snacks
Limiting your consumption of alcohol and staining beverages
Refraining from biting hard objects and using your teeth as tools
Wearing a nightguard if you grind your teeth
Be aware that some dental services will require professional upkeep to preserve optimal aesthetics and function. For example, teeth whitening can be repeated as needed. Crowns and veneers may eventually need to be replaced. Ask our dentist about your maintenance needs. 
Start Your Journey Towards a Beautiful Smile
For more information, see our Smile Makeover Questions. To view the smile makeover results of our actual patients, see our smile gallery.
If you would like to learn more about smile makeovers in Calgary, Alberta, please contact the Aesthetic Dental Studio online or by phone at 587-315-5080 today to schedule your initial consultation.