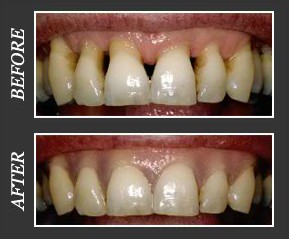 If you have unsightly gum recession when you smile, you might be able to benefit from a cosmetic dentistry procedure called cosmetic gum masking, also known as gingival masking or gingival veneering. A gum mask is a soft, lifelike silicone appliance that fits onto the fronts of your exposed root surfaces and gums to create a healthy looking appearance and enhance your smile. 
A cosmetic gum masking procedure may apply if you have recession from previous gum surgery, exposed dental implants, or generalized gum recession. The procedure consists of first having a dental hygeine appointment to make sure the gums and teeth are clean and healthy in this area. Then a highly accurate mould is taken of your teeth for fabrication by our master lab technician of the gingival veneer. The gum mask fits onto your smile without the need for adhesives and gives you a natural appearance to your gum line.
If you are interested in cosmetic gum masking in Calgary, please contact the Aesthetic Dental Studio online or by phone at 403-543-4600 for further information about gingival veneers in Alberta.