Missing teeth are unsightly and unattractive, and they can dramatically affect the appearance of your smile, the ease of eating and the ease of speaking. In other words, a missing tooth is not just a cosmetic dentistry problem. It can dramatically hurt your overall dental health.
Fortunately, the Calgary dentists at Aesthetic Dental Studios offer a wide range of restorative dentistry procedures to replace missing teeth, including high-quality dental bridges.
If you're not prepared to opt for a dental implant, a dental bridge is an excellent way of replacing your missing tooth. The bridge has a long history in modern dentistry, and Dr. Gordon Chee has experience making sure your procedure goes as smoothly and painlessly as possible.
We'll be happy to speak with you about all your options during your initial consultation. Please call us in Calgary at 403-543-4600.
What Are Dental Bridges?
Bridges are a type of dental restoration that replace missing teeth. While there are several different kinds of dental bridges, they all have something in common. They consist of one or more artificial teeth that close smile gaps caused by tooth loss.
Some bridges are attached to surrounding teeth for support. Others are attached to dental implants.
No matter which option you and our Calgary dentist decide to pursue, rest assured that it will look very natural. Modern dental bridges are made of tooth-coloured materials such as composite resin and ceramic.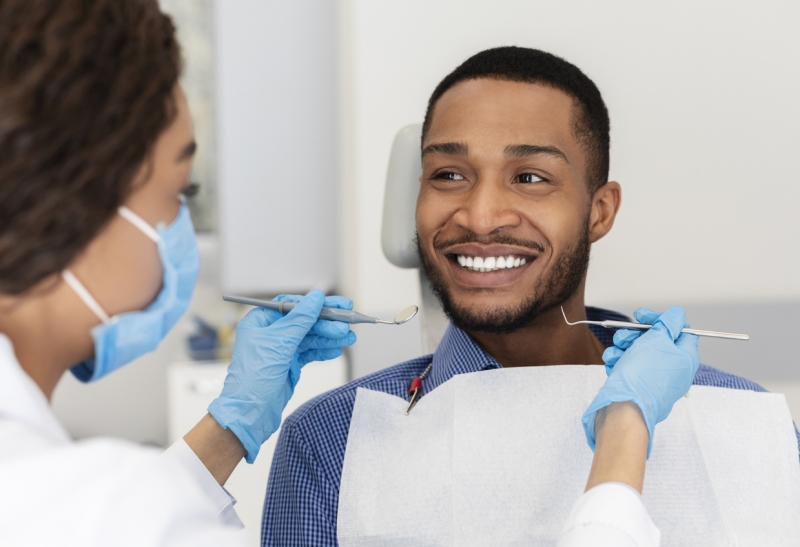 Traditional Bridges
In a traditional bridge, the two teeth surrounding the gap in your smile are slightly trimmed down so they can fit with the new bridge and have dental crowns placed on them. Then, our dentists will fit an artificial tooth, usually made of porcelain, in the gap and attach it to the surrounding teeth with metal wings.
Cantilevered Bridge
The cantilevered dental bridge is used when we need to replace a back tooth that does not have teeth on both sides to support it. Our dentists will fit the artificial tooth in the gap and attach it to the one tooth adjacent to it.
Maryland Bonded Bridges
In this procedure, we trim very small slots into the adjacent teeth. When the artificial tooth is fit into the slot, we bond it to the back of the adjacent teeth using dental resin. This option is best for front teeth, and it does not require as much adjustment to the existing teeth.
A dental bridge is just one of your tooth replacement options at Aesthetic Dental Studios. Whatever you choose, we will use our top-notch facilities and staff to perform the procedure in a safe, comforting atmosphere.
Who Is an Ideal Candidate for Dental Bridges?
Not everyone is an ideal candidate for dental bridges. However, they do work for a lot of patients.
Some factors that may indicate a bridge is right for you include:
You are missing one or more permanent teeth
You have good oral health
You have healthy teeth or bone structure to support the bridge
What Are the Benefits of Dental Bridges?
Dental bridges offer a variety of practical and cosmetic benefits, including:
Restoring your ability to speak normally
Improving your ability to chew food
Maintaining your facial structure by stopping bone loss
Preventing your remaining teeth from shifting out of place
Improving the look of your smile and potentially boosting your self-confidence
Missing teeth are not a problem that should be taken lightly. When left untreated, they can trigger a wave of additional dental health issues. Not only can these issues be uncomfortable, but they can also be difficult and expensive to treat. It is in your best interest to address tooth loss with a dental bridge or another restoration as soon as possible.
What Is the Dental Bridge Procedure?
The dental bridge procedure varies depending on the type of bridge. The first step in the process of getting a traditional dental bridge involves preparing the abutment teeth. Dr. Chee will shape those teeth so that they can accommodate the crowns that will hold the bridge in place.
Then, he will take impressions of your teeth and send them off to a dental lab. He will also make a temporary bridge for you to wear while you wait for the dental lab to create your bridge.
During your next appointment, Dr. Chee will remove your temporary bridge and check the fit of your permanent one. Once he has made sure that it fits properly, he will cement it in place.
How Long Does the Dental Bridge Procedure Take?
It usually takes two visits to get a traditional fixed or cantilever dental bridge. Meanwhile, a Maryland dental bridge can often be completed in a single visit. That is because the abutment teeth do not need to be prepared for this type of bridge. As for implant-supported bridges, the process can be lengthier.  You will need to account for the implant placement surgery as well.
As you can see, there are a lot of variables involved. Dr. Chee will gladly provide more information about your treatment schedule and how long you can expect each appointment to last.
How Should I Care for My Teeth After Getting Dental Bridges?
Dental bridges depend on the foundation that supports them. That is why it is particularly important to prevent issues such as tooth decay and gum disease. These simple steps will help you care for your teeth after getting a dental bridge:
Brush twice a day and floss daily
Avoid hard and chewy foods
Schedule regular dental cleanings and exams
Are Dental Bridges Permanent?
Dental bridges are usually described as permanent because they are not removable. However, that does not mean that they last forever. They may need to be replaced every 5 to 15 years, depending on how well you take care of them. It is possible to extend the lifespan of your bridge past the 15-year mark.
If you're looking for a capable, experienced dentist to replace a missing tooth, please contact Aesthetic Dental Studio online by clicking here or call 403-543-4600 today to arrange a discussion of your dental needs. Located in Calgary, serving Cochrane and all of Alberta.