Few things are more important than choosing an experienced, skilled, and welcoming dentist who is personally committed to your smile. For extensive dental treatment, you want to be sure that your dental team meets and surpasses your expectations. Many patients looking for a comfortable experience and high-quality results travel out of town or even out of the country to be seen by the dentist of their choice.
Aesthetic Dental Studio routinely welcomes guests from across Alberta and the nation. We provide fly-in services as part of our commitment to ensuring that our out of town guests receive first-class dentistry and service while enjoying their visit to our fair city of Calgary.
Located near the intersection of 53 St NW and Dalhousie Dr NW off Highway 1A, our dental practice is surrounded by welcoming accommodations, craveable restaurants, and breathtaking natural landscapes. Dr. Gordon Chee and the rest of our staff will happily provide you with additional information and personalized recommendations.
If you are located outside of Alberta and are interested in flying in for dental treatment, please call 403-543-4600 today. We welcome patients from across Canada, the United States, and the world.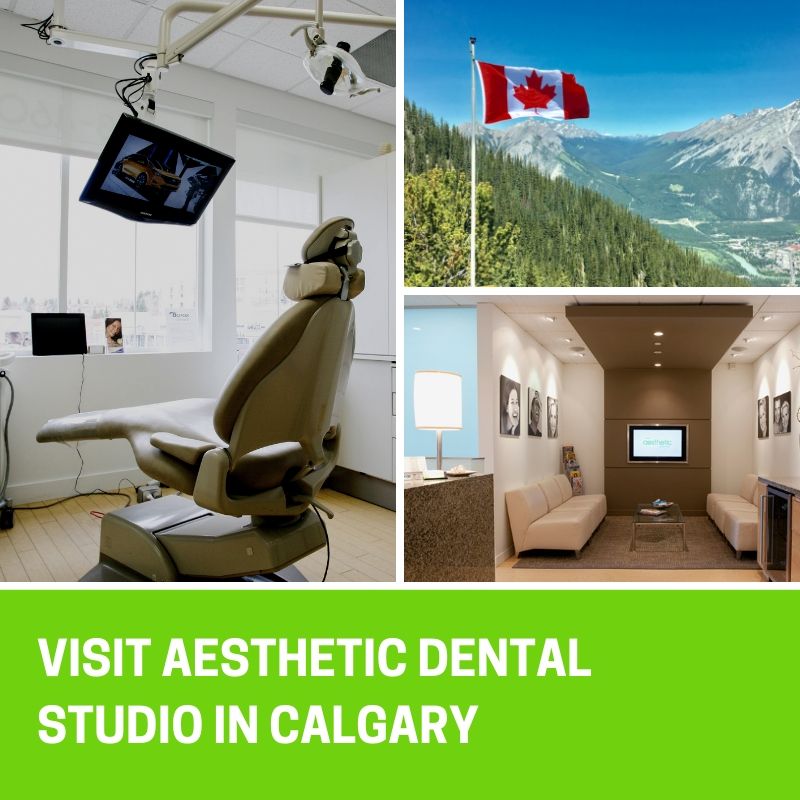 Information About Foreign Exchange Rates
In addition to seeking our top-notch dental services, many patients visit our practice from America because the exchange rate is in their favour. While the currency exchange rate is flexible, meaning it can rise or fall based on economic factors, the U.S. Dollar is often stronger in exchange.
When the U.S. Dollar is stronger, it gives you more buying power. Here is an example: if 1 USD is worth 1.318 CAD, then 2,000 USD would be worth 2,636 CAD. This favourable exchange rate can help you save money on your dental treatments.
Lodging
There are a number of hotels near our practice for which we can provide shuttle service to and from our office. You can contact them yourself, or we can make the reservation if you prefer. Some options include:
There are additional lodging options available, including Airbnb, VRBO, and other hotels. If you have questions about where to stay, please give us a call.
Transportation
If you like, we can help you arrange transport to and from the airport and around Calgary. We can help you get taxis or limousines with Blue Sky Limousine Service.
Also, our office is conveniently located on the Calgary LRT line (also known as the C-Train). The LRT is a quick, efficient transit system that can take you to most of the city's great sights, and there's no better way to get the true flavour of a city than through its public transportation system. Lastly, you can choose to use Uber or Lyft for transportation.
Dining
There are also many fine eateries near our office, and we can help you get reservations for your stay. These are just a few suggestions, and if you are looking for something in particular, we can recommend anything from inexpensive to exquisite.
Popular restaurants nearby include:
NOtaBLE: Original Canadian food in a high-end space
Kinjo Sushi & Grill: A casual sushi bar with vegetarian options
Chianti Café & Restaurant: A reasonably priced Italian restaurant
Naturally, our team members all have their favourite restaurants in the area. We would be happy to discuss the local favourites and make recommendations based on your dietary needs and preferences.
Spas and Other Attractions
If you want to make your visit to Calgary a vacation, what better way to enjoy the luxury than with a visit to a spa? Here are a couple of local spas that offer a wide variety of services to help you look and feel your best during your visit:
There are many other great things to see and do during your visit to Calgary. In town, you might want to see:
And if you or others in your party are up for a day trip, we can arrange travel to nearby Banff, which not only features some of the best skiing, including late spring skiing, but is also home to the Banff Mountain Film Festival.
Plan Your Visit
If you are interested in coming to Calgary to receive treatment, contact the Aesthetic Dental Studio by phone at 403-543-4600 for a cosmetic, general, neuromuscular, or other dentistry treatment consultation today. Dr. Chee is a highly-skilled dentist who is fully committed to your safety, comfort, and results.