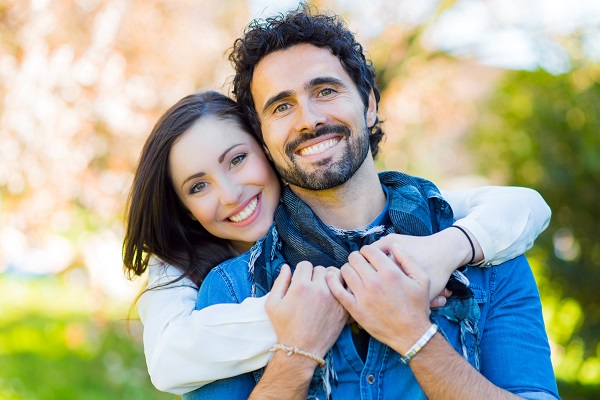 Teeth whitening significantly improves the overall appearance of a stained, discoloured smile, which is a very common cosmetic dental problem. Using state-of-the-art whitening treatments, our experienced dentists in Calgary can make your teeth brighter and whiter. To learn more or to schedule an appointment, please call Aesthetic Dental Studio at 403-543-4600.
Zoom! Laser Teeth Whitening at Aesthetic Dental Studio
The Zoom! system makes it possible for our dentists to whiten your smile in a single dental appointment. Here is how it works:
A gum guard is placed in your mouth to shield your gums and lips from the whitening gel
Whitening gel is applied to your teeth
Your teeth are exposed to the Zoom! LED light 3-4 times, for 15 minutes each time
The Zoom! light activates the whitening agents in the gel, creating the level of whiteness you want to see in your smile.
This laser tooth whitening system is fast and painless, although it is perfectly normal to experience tooth sensitivity for a few days following the treatment session. Consider some of the other advantages of Zoom! whitening:
Brightens teeth up to 8 shades whiter
Results reached in a single dental appointment
Reduces tooth and gum sensitivity
Proven to be safe and effective
Long-lasting results
Most Zoom! appointments take about an hour and a half to complete at our office. Once the treatment is complete, you will enjoy immediate results, leaving our office with your whiter, brighter smile. The results may continue to improve over the next two weeks. Results typically last for years before another treatment may be necessary. You can also extend your results by using our custom take-home whitening trays for occasional touch ups.
In-Office vs. At-Home Teeth Whitening Treatments
There are two options for brightening your smile under the guidance of our dentists:
Laser tooth whitening at our office. This is the Zoom! treatment described above. Overall, the advantages of having your teeth whitened at our office include a fast treatment, instant results and the whitest possible shades.
Whitening at home with custom trays. If you prefer to whiten your teeth with take-home trays, we will create the customized trays to fit your teeth precisely. The main advantage of at-home whitening is completing the treatment in the comfort of your own home. It takes about two weeks to reach ideal results. These trays can also be used to touch up the results of in-office whitening.
Whichever option fits your lifestyle, teeth whitening performed by our dentists allows you to feel confident and self-assured every time you smile. Talk to our dentists today about which type of treatment is right for you.
What are the causes of Tooth Stains and how can I Prevent them?
One source of teeth yellowing is food and beverages, including:
Red wine
Coffee
Tea
Cola and other sodas
Sports drinks
Citrus fruits
Tomato sauce
Berries
Beets
Curry sauce
Although some foods and beverages stain your teeth simply by virtue of their color, other things cause teeth to stain because of their acid content. Soda and lemons, for instance, are two acidic products that can wear down the enamel on your teeth. When the enamel is weakened, it is easier for it to stain because of the coloration of foods and beverages. Of course, you may really enjoy some of these foods and beverages! To reduce their staining power, you can rinse or brush your teeth after eating. You can also incorporate them into a large meal, which lessens their staining powers because you will produce saliva while you eat your meal, which washes away the staining components.
Teeth stains can also be caused by smoking, poor oral hygiene and certain medications. Trauma and injury to your teeth can even cause stains by harming the inner core of your teeth, known as dentin. So what can you do to prevent tooth discolouration in the first place? Consider these tips:
Drink staining beverages through a straw, or rinse your mouth out with water after drinking them
Rinse your mouth with water after eating acidic foods
Practice good oral hygiene
Have your teeth routinely cleaned by our dental hygienists
Do not smoke or use tobacco products
Protect your teeth from trauma, especially when engaging in contact sports
These habits can be beneficial both before and after a whitening treatment: to prevent stains in the first place, and to maintain your whitening results as long as possible.
Patient Testimonial
"Love the work done on my teeth by Dr. Chee, the results are outstanding. Thankful for such an extremely talented, kind and caring professional. Thank you to all of his great staff for answering all of my questions and helping with the process. Exceptional patient experience."
Other Whitening Options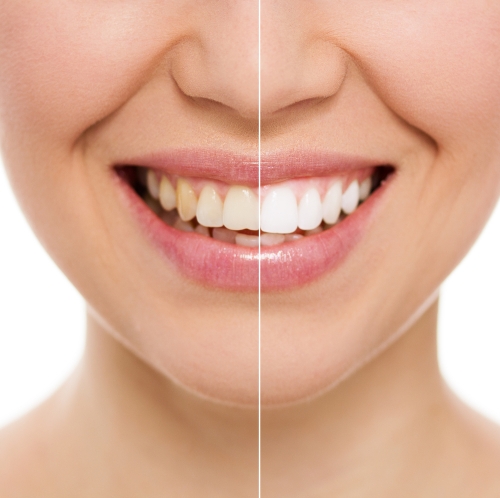 In addition to professional teeth whitening, you may want to consider porcelain veneers as a means of brightening your smile. Porcelain veneers are thin, tooth-shaped restorations placed over the front surface of your teeth. Because they create a new tooth surface, they conceal all cosmetic flaws, including stains, chips and worn edges.
Like whitening, veneers allow you to have the shade of tooth whiteness you want. Veneers can also last for decades without needing to be replaced. Talk to our experienced dentists about which option is right for you.
Schedule A Client Consultation
If you are interested in teeth whitening to restore your confidence in your smile, please call Aesthetic Dental Studio in Calgary at 403-543-4600 to set up a consulation online. We are personally committed to rejuvenating your smile and helping you to maintain outstanding oral health.