White spots on teeth are a very common problem. In most cases, these marks do not fade over time or respond well to at-home treatments. If stubborn discolored blotches are making you feel self-conscious about your smile, consider the simple and painless Icon treatment at Aesthetic Dental Studio.
Icon is an excellent option for eliminating white, yellow, and brown spots on teeth without drilling or anesthesia. This effective, non-invasive cosmetic dentistry service can restore the even-toned appearance of your teeth. In most cases, one quick session is enough to improve discoloration significantly.
Learn if Icon is right for you by scheduling a free consultation with Dr. Gordon Chee at 403-543-4600. We happily welcome patients from Calgary, Cochrane, Airdrie, and nearby areas of Alberta.
What Causes White Spots?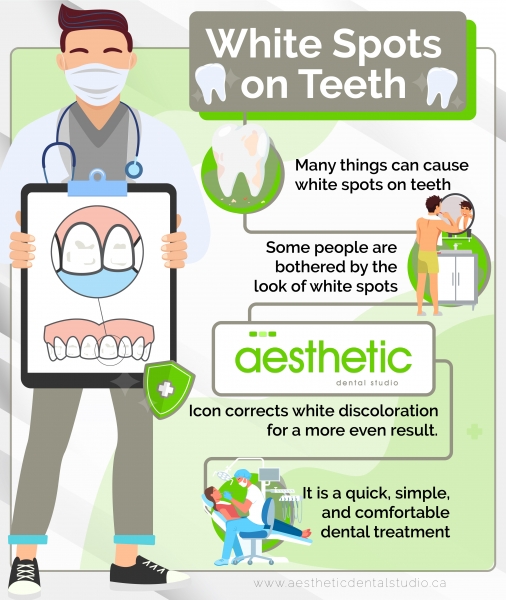 Many factors can cause white spot lesions to form on the surface of your teeth. If you've had white spots since your childhood, they are likely the result of fluorosis. Fluorosis stems from an overexposure to fluoride while your permanent teeth are forming.
White spots can also be a problem after orthodontic treatment. Traditional braces make it difficult to remove plaque from your teeth, especially when good dental hygiene is absent. Unfortunately, plaque produces harmful, mineral-striping acids. These acids can create a patchy area on the surface of your tooth that does not reflect light in the same way that the surrounding area does.
While traditional braces tend to increase your risk of getting white spots, these marks can occur wherever there is excessive plaque buildup. Often, the chalky white appearance of decalcification is a precursor to problems such as decay or dental caries.
Treating White Spots with Icon Resin Infiltration 
Icon is a non-invasive, painless treatment that can correct the appearance of white, yellow, or brown spots. It consists of an innovative, highly fluid resin that deeply penetrates the enamel. Once cured, the resin creates a permanent seal, improving the appearance of the tooth while preventing future damage. Icon resin effectively conceals discoloration because it mimics the appearance of your natural enamel.
Icon offers numerous benefits, such as:
No shots or drilling
Quick appointment
Preserves natural tooth structure
Uniform, natural-looking color
Long-lasting results
Ideal Candidates for Icon
Icon may be right for you if you are looking for a simple way to correct white discoloration on the surface of your teeth. When it comes to improving white spots, Icon is a great alternative to more involved services such as porcelain veneers. Icon is particularly beneficial for young children, teenagers, and adults suffering from unsightly post-orthodontic spots.
The Icon treatment may be an ideal solution if you have surface discoloration caused by:
Fluorosis
Decalcification
Trauma
Infection
Schedule a consultation with Dr. Chee to learn if Icon is right for you. While most people are excellent candidates for Icon, it may not be appropriate for everyone.
What to Expect During an Icon Treatment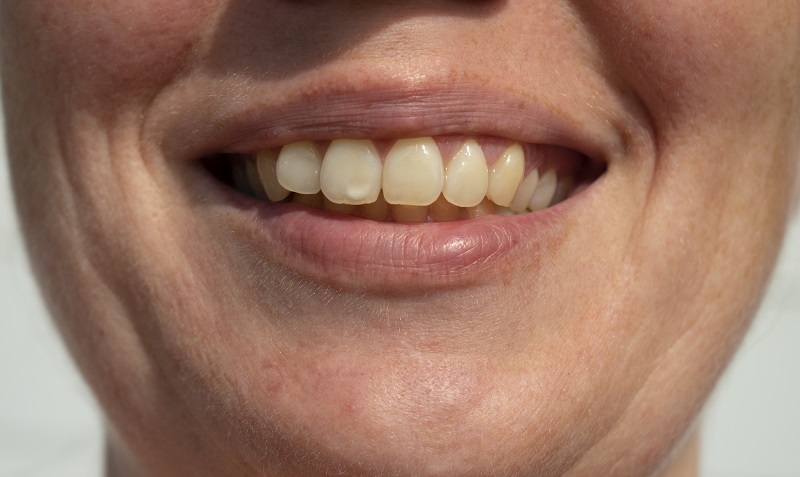 Icon is a fast, simple, and comfortable treatment. Dr. Chee will begin by pretreating the discolored area. This step involves gently rinsing and cleaning the affected teeth, followed by the application of a special etching solution.
Next, Dr. Chee will apply the Icon infiltrant resin and allow it to work for several minutes. During this time, the product deeply penetrates the discolored area. After removing excess resin, he will cure the product with a special light.
Dr. Chee may repeat the above steps several times if necessary. To end the quick treatment, Dr. Chee will polish the surface of your teeth to reveal an even-toned result.
Schedule Your Icon White Spot Removal Treatment in Calgary
To learn more about Icon for white spots, call 403-543-4600 to schedule a consultation. Aesthetic Dental Studio welcomes patients from Calgary, Cochrane, Airdrie, and nearby areas of Alberta.