Dentist Serving Calgary, Cochrane, Airdrie and Nearby Areas of Alberta
Nothing looks or functions better than a natural tooth. That principle is at the core of biomimetic dentistry, which focuses on saving tooth structure while correcting damage with lifelike materials. It is an aesthetic, long-lasting, and cost-effective solution to problems like decay and damage.
A significant amount of training and research goes into providing this new dentistry service. Dr. Gordon Chee is skilled in biomimetic techniques and can help you achieve a healthy smile.
Learn more about biomimetic dentistry and the benefits it can provide by scheduling an appointment at 403-543-4600. Aesthetic Dental Studio serves Calgary, Cochrane, Airdrie, and nearby areas of Alberta.
What is Biomimetic Dentistry?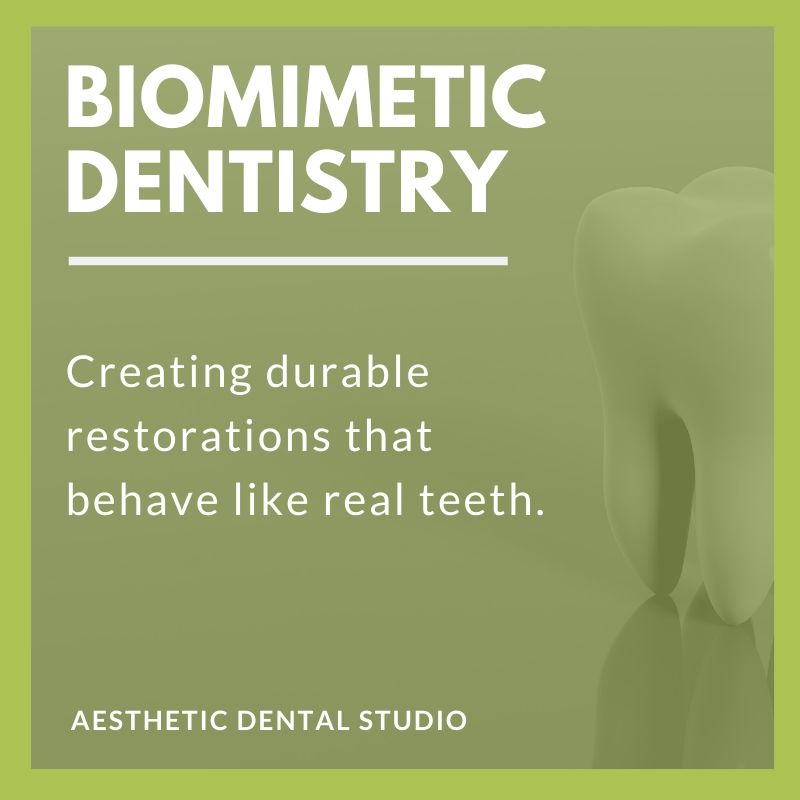 Biomimetic dentistry means life mimicking dentistry. It involves studying the natural properties of teeth and duplicating those properties to fix damage and decay. The materials and techniques used in biomimetic dentistry recreate nature to produce durable restorations that look, feel, and move like real teeth. In addition to creating lifelike dental work, biomimetic dentistry focuses on preserving as much natural structure as possible.
Ultimately, biomimetic dentistry is a new, holistic way of bonding and cementing restorations and performing fillings. The process has the added advantage of protecting the treated tooth from future infections and other issues.
Benefits of Biomimetic Dentistry
There are numerous advantages to biomimetic dentistry. With this approach, Dr. Chee is able to:
Conserve natural tooth structure
Create dental work that responds to daily use like a natural tooth
Seal treated teeth from infection, resulting in a lower rate of root canals
Restore teeth that may otherwise require extraction
Minimize filling shrinkage and stress
Eliminate the need for costly restorations in the future
Biomimetic Dentistry Candidates
Biomimetic density may be a great option for you if you are looking to repair weak, fractured, or decayed teeth. It is particularly suited to patients who are concerned about preserving natural tooth structure and avoiding future restorative dental treatment.
The good news is that nearly everyone is a candidate for biomimetic dentistry. The materials and techniques used in biomimetic dentistry can often save and restore even the most worn down, broken teeth. To learn if this approach is right for your unique dental needs, schedule a consultation with Dr. Chee.
What to Expect From the Biomimetic Process
With biomimetic dentistry, Dr. Chee will begin by taking an x-ray of your tooth and creating a plan to repair it. Then, he will use advanced methods — such as air abrasion and dye — to clean the tooth and remove decay. These methods are unique because they leave the tooth as close to its natural state as possible.
Then, Dr. Chee will use a strong bonding material that mimics the biological structure of the tooth to rebuild any damaged areas. He will carefully sculpt this durable material to withstand high stress. The result looks, feels, and flexes like a natural tooth.
When Can a Tooth Not Be Preserved with Biomimetic Dentistry?
While the number one goal of biomimetic dentistry is to preserve the tooth, there may be times when this won't be possible. Patients should be aware of the situations where a tooth is beyond saving through biomimetic practices and may require traditional dentistry that involves more cosmetic treatments to replace the decaying tooth. Teeth with the following conditions may not qualify for biomimetic dentistry:
Cavity that reaches the bone
Advanced periodontal issues
Broken at the gum line
How Long Do Results from a Biomimetic Dental Treatment Last?
Most biomimetic dental treatments involve fillings which are used to fill the compromised tooth while preserving its natural structure. Biomimetic fillings are made of material that works to prevent any other bacteria from entering the tooth and further weakening and damaging it. With a natural look and feel, this filling often feels just like a natural tooth when settled in the mouth. When properly applied, biomimetic filings are designed to last a lifetime.
Schedule Your Biomimetic Dentistry Consultation in Calgary
Learn if biomimetic dentistry is the right approach for your needs by speaking with Dr. Chee in person. Schedule your free consultation today by calling 403-543-4600. Aesthetic Dental Studio serves Calgary, Cochrane, Airdrie, and nearby areas of Alberta.