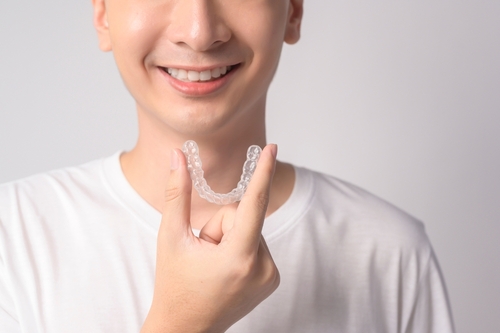 Are imperfections such as misalignment and gaps between the teeth causing you to feel more self-conscious about your appearance when socializing with friends and family? In 2023, it's time to do more for you! Dr. Gordon Chee and his team at Aesthetic Dental Studio in Calgary, AB, are here to assist with solutions that will meet and exceed your needs! If poor alignment and spacing are a problem, Invisalign™ might be the answer!
What Is Invisalign™?
Invisalign™ is a customized set of clear aligners that are designed to gradually shift the teeth into the proper position and address a wide variety of common dental problems. The aligners can be used to close gaps and spaces between teeth, straighten misaligned teeth, or even improve an overbite or underbite. Patients obtain an entire series of aligners that are made from digital impressions of the current smile. Each tray is worn for 14 days before progressing to the next, allowing for gradual realignment of the teeth with proper compliance.
Who Is a Good Candidate for Invisalign™ Orthodontics?
Invisalign™ is most commonly used for adults who want straighter teeth than what they had as a child. Many people find that wearing braces as an adult can cause embarrassing situations for them at work or in social settings, so Invisalign offers an alternative solution for these people that allows them to get their smile looking better without all the embarrassment that other orthodontic treatments might bring. The best candidates for this particular treatment are those with mild to moderate misalignment of the teeth, including poor bite alignment. Crossbites, underbites, and overbites can all be improved with this method of orthodontia.
Schedule an Appointment To Discuss Your Needs With Our Team
If you have crooked teeth or spacing issues, then Invisalign™ might be able to help you smile with more confidence. Contact Dr. Gordon Chee at Aesthetic Dental Studio of Calgary, AB, today to schedule your consultation and learn more about how Invisalign can help improve the appearance of your teeth! Call 403-543-4600 to request your visit and get started learning more about this and other cosmetic and restorative dentistry solutions available at his practice.