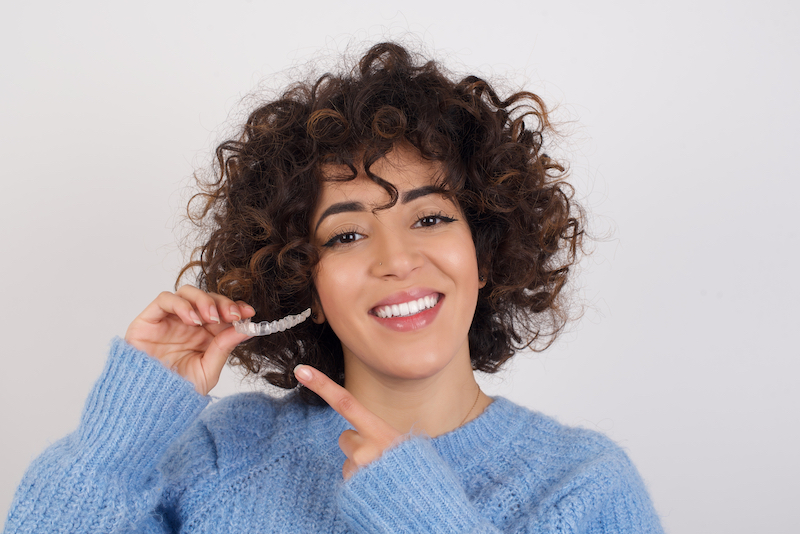 Invisalign® is a household name. It rose to popularity as a comfortable, discreet, and convenient alternative to traditional metal braces. You may think that you know everything about Invisalign. However, these three facts usually come as a surprise to our orthodontic patients in Calgary.
1. Invisalign Patients Experience Fewer Emergency Visits 
Traditional metal braces can cause various problems that may require an immediate trip to the dentist. For example, the brackets can become loose or pop off, and sharp broken wires can poke the inside of the mouth. Invisalign patients don't have to deal with these same struggles.
It's true that the clear trays can get damaged from improper use. However, you can simply take them out and request replacement trays without needing to rush into the dental office right away.
2. The Recommended Wear Time is 20 to 22 Hours
Your life doesn't have to slow down for Invisalign treatment. You can eat your favorite foods, participate in the sports that you love, and even play an instrument — things that are tough with braces. But this flexibility leads some patients to underestimate the required daily wear time.
Invisalign must be worn for 20 to 22 hours a day to keep your treatment on track. Any less than that, and you risk slowing down the smile straightening process and delaying your results.
3. Invisalign Can Treat Many Different Alignment Issues
Invisalign isn't just for simple straightening. These advanced aligners can also help with more complicated cases. Whether you think that your smile issues are small or significant, there's a good chance that Invisalign is an appropriate treatment option. It can work for patients with:
Overbite

Underbite

Crossbite

Gap teeth

Open bite

Crowded teeth

Generally crooked teeth
Schedule an Invisalign Consultation in Calgary
Dr. Gordon Chee is proud to offer Invisalign as an alternative to traditional metal braces. Schedule a consultation at 403-543-4600 to learn if clear aligners can achieve your smile goals. Aesthetic Dental Studio proudly serves Calgary, Cochrane, Airdrie, and nearby areas of Alberta.