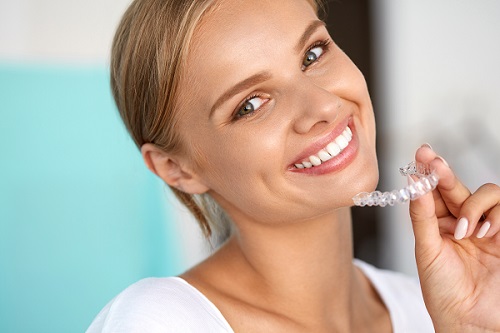 Invisalign® provides an alternative to traditional bracket-and-wire braces, for people who are good candidates for the treatment. The treatment involves using a series of customized, clear, plastic aligners to gradually straighten your teeth. The great thing about these aligners is that you can remove them to eat, and to brush and floss. But their removability also puts a lot of responsibility in the hands of the patient: If you wear Invisalign, you will be in charge of making sure the aligners are in for the right amount of time each day.
 At Aesthetic Dental Studio, our experienced dentist and dental team want each of our patients to have the most successful, effective treatment possible. Here are some general tips for optimizing Invisalign treatment:
Remove the aligners only when necessary! In order for Invisalign to work, the aligners must be worn for at least 22 hours every day, preferably longer. It may be tempting to remove the aligners, but doing so unnecessarily can hinder and lengthen your treatment.  
Call our office with any questions. We are here to help our patients complete their treatments successfully. If you ultimately become an Invisalign patient, we are available to answer any questions or concerns you may have, so that you can feel confident you are doing everything right.
Follow Dr. Chee's instructions for when to change aligners. Each aligner is slightly different than the others. Just like braces, the shape of each aligner accomplishes specific teeth movements over time. Dr. Chee will make sure you know when you are ready to move up to the next aligner in your treatment.
Be patient as you adjust to speaking with your aligners in. Most people find speaking a little awkward when they first put in their aligners. You will get used to the feeling of the aligner over your teeth in a couple days, and just about all patients have no issue with speaking after this initial adjustment phase.
Invisalign is a great way to straighten your teeth without attracting unwanted attention. Metal brackets – although an effective, viable option – can cause people to feel self-conscious, and some people would prefer a clear alternative when possible.
If you are interested in Invisalign in Calgary or Airdrie, experienced dentist Dr .Gordon Chee can determine if you are a good candidate. To schedule a consultation, please call Aesthetic Dental Studio at 403-543-4600.