Posted: September 22, 2020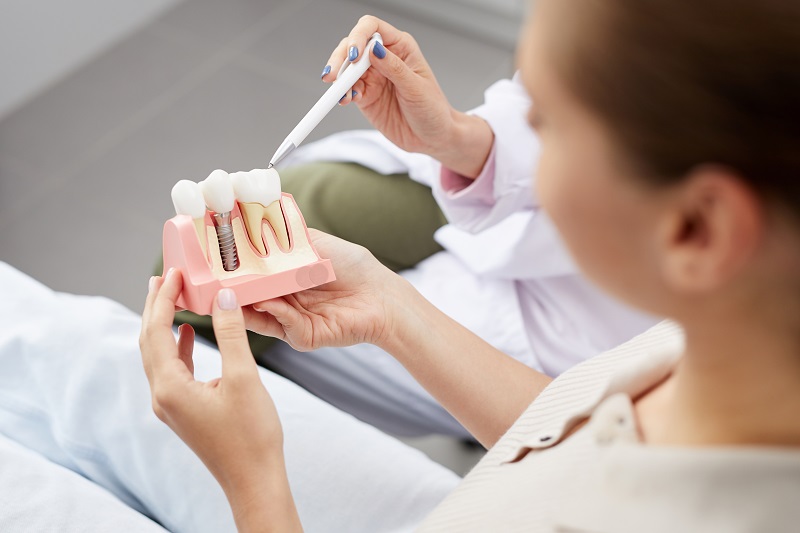 Your gums can grow between your dental implant placement appointment and the time that you receive your permanent restoration. That is why our Calgary dentist places a healing abutment or a temporary crown on top of the implant. These components help ensure that the gum tissue does not grow over the implant during the healing stage.
Healing from dental implant surgery typically takes several months. During this time, the implant will go through the process of osseointegration and fuse to your jawbone. Your customized crown, bridge, or denture will be manufactured while you wait.
Once your mouth has healed, you will visit our office for your final appointment. Dr. Gordon Chee will attach your permanent restoration to your implant. At this point, you should enjoy a significant improvement in the look and function of your smile!
Receding Gums After Implant Placement
Some people experience issues with receding or thin gum tissue after implant placement. These complications are relatively rare when the implant is placed properly, and the patient is an ideal candidate.
Dr. Chee takes great care to place dental implants in the optimal position using the latest digital technology. He will use CAT scans, virtual modeling software, and a custom implant guide for exact placement.
Additionally, Dr. Chee thoroughly evaluates each patient's candidacy before proceeding with implant therapy. He will make sure that you have adequate jawbone and healthy gum tissue before moving forward with treatment. These measures help ensure that the results are as aesthetic and long-lasting as possible.
Are You Experiencing Any Gum Issues?
Have you noticed a problem with your gum tissue? Would you like to learn more about the relationship between dental implants and the rest of your mouth? Call us at 403-543-4600 to schedule a consultation. Aesthetic Dental Studio welcomes patients from Calgary, Cochrane, Airdrie, and nearby areas of Alberta.