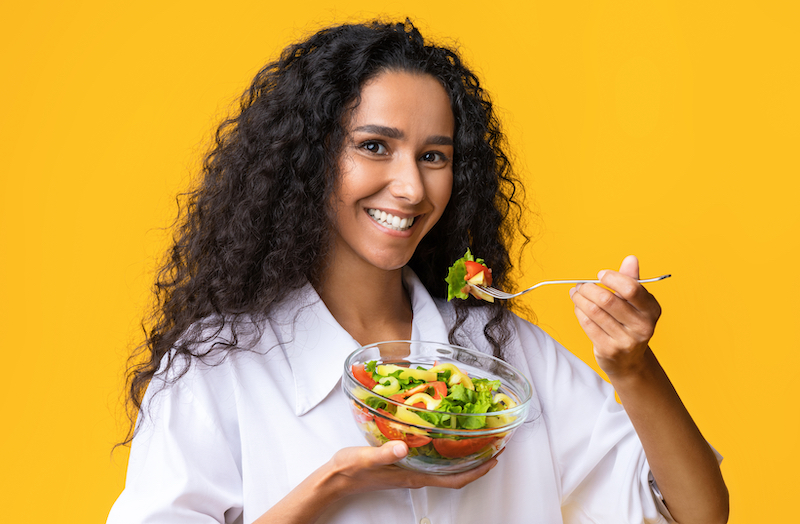 March is Nutrition Month in Canada. Now is the perfect time to think about how our food choices can impact the health and appearance of our teeth. After all, achieving our very best smiles takes more than general and cosmetic dental services. Eating well plays a pretty significant role.
Here are some of the most smile-friendly foods you can eat:
Milk and cheese

: Dairy products, in general, are quite good for your dental health. They tend to be low in sugar. They also contain protein and calcium to help strengthen teeth. If you are not lactose intolerant or vegan, then dairy products can be a very smart choice.


 
Fruits and veggies

: These foods are high in both water and fiber. For that reason, fruits and vegetables can aid in cleaning your teeth and balancing some of the sugars they contain. Chewing them will also stimulate saliva production to help wash your teeth. 


 
Lean protein

: Fish, chicken, eggs, and lean beef are very rich sources of phosphorous. This important mineral helps protect the outer layer of your teeth called the enamel. If you do not eat meat, then almonds and other nuts could be good alternatives. Just be careful when chewing on these hard foods because they could cause a dental injury. 
These are some great food choices. However, we should not overlook the benefits of water. Drinking fluoridated tap water is one of the best things that you can do for your stunning smile.
Foods To Minimize or Avoid
Not all foods and drinks are good for your dental health. It is best to cut back on things like sugary sodas, sweet treats, and fruit drinks. Even snacking can work against your smile. Instead, try to eat a complete meal because more saliva will be released to protect your teeth.
Book a Dental Appointment in Calgary
Good nutrition can support the health of your teeth. However, it is not enough. Professional dental care is another important piece of the puzzle. Be sure to schedule regular checkups.
Call 403-543-4600 today to book your dental appointment with Dr. Gordon Chee. He offers a wide range of dental treatments, including general, cosmetic, restorative, and neuromuscular. Aesthetic Dental Studio serves patients from Calgary, Cochrane, Airdrie, and nearby areas of Alberta