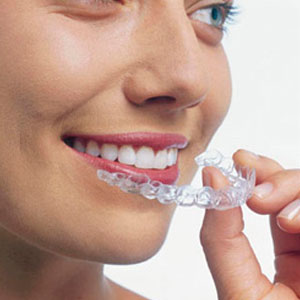 If you are a good candidate for Invisalign®, you can enjoy the benefits of straightening your teeth with removable aligners:
Eat all of your normal foods. Traditional braces come with certain dietary restrictions. Crunchy, chewy and hard foods must be avoided to prevent damaging the brackets and wires. Because you remove Invisalign® aligners when you eat, you can eat whatever you want. Just remember to brush your teeth before you put the aligner back in your mouth.
Brush and floss with ease. You also remove the aligners for brushing and flossing. This means you won't have to do anything different from your normal dental hygiene routine. Metal braces require careful brushing to reach all around the wires and brackets. Plus, special flossing devices and techniques must be used to floss beneath the wires.
Enjoy unencumbered confidence. Because Invisalign® is clear, most people won't know you are wearing it; in fact, no one may know unless you tell them. This discretion can be hugely beneficial, especially for adults whose careers involve client interactions, or otherwise involve tasks where confidence is important.
To schedule a consultation in Calgary to find out if you are an Invisalign® candidate, please call Aesthetic Dental Studio at 403-543-4600. You deserve to feel great about your smile, and we'll help you determine the best way to achieve your dental goals.